The Calgary Flames haven't been able to solve their goaltending situation since Miikka Kiprusoff retired in 2013. Since the start of the 2013-14 season, 12 goaltenders have suited up for the team, with Karri Ramo leading the way with 111 appearances. Mike Smith, second on that list with 82 games, has struggled mightily this season and will become an unrestricted free agent this summer at age-37. Luckily, the Flames may have an internal answer to their long-term goaltending situation. David Rittich, who has stepped up admirably in Smith's place this year is a restricted free agent at season's end, and Elliotte Friedman of Sportsnet believes that the team sees him in the starting role moving forward:
I think they're looking for a guy to have there as insurance. I believe that David Rittich—it's Calgary's plan to make David Rittich their long-term guy. I think everything they're doing this year is trying to show David Rittich that they believe in him and that he's their long-term guy. So I'd be surprised if they go out there [at the trade deadline] and got a number one guy. I think they're going out there to give [Rittich] some help, and if they need it down the stretch. I think long-term, [Rittich] is your number one goalie. I think that's Calgary's plan because they know him, and I think that's what they want to do.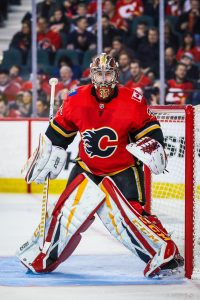 Rittich, 26, has certainly shown himself to be a capable netminder this season. In 33 appearances he has a 20-4-5 record and .915 save percentage, and has been a huge reason for the team's success in the Pacific Division. The Flames enjoy a one-point lead over the San Jose Sharks, but are eight points clear of the third place Vegas Golden Knights. Rittich has also represented an incredible bargain for the team, signed to a one-year $800K contract. That's his third contract since originally signing as an undrafted free agent with the Flames in 2016, meaning this is also the only NHL organization he's ever known.
It will be interesting to see if the Flames decide to offer Rittich a long-term contract before he hits RFA status, given that he has arbitration rights this summer as well. Just a year away from unrestricted free agency, the goaltender could potentially hold out for just the one-year arbitration award and walk next summer as a 27-year old potential starter. Calgary will likely want to avoid that outcome, making an extension a real possibility over the next few months.
Perhaps more importantly than his play in the first half though is how he fares for the team in the playoffs. The Flames have been burned poor postseason performances in recent years, including Brian Elliott's implosion in the first round against the Anaheim Ducks in 2017. After a relatively successful season, Elliott posted an .880 save percentage through four games as the Flames were swept out of the playoffs with ease. Without any NHL playoff experience, handing the reins to Rittich will be a difficult decision.
Photo courtesy of USA Today Sports Images