The Toronto Maple Leafs have signed their young superstar to a huge contract, inking a five-year extension with Auston Matthews. The deal will carry an annual average value of $11.634MM, and be paid almost entirely in signing bonuses. Bob McKenzie of TSN provides the yearly breakdown:
2019-20: $700K salary, $15.2MM signing bonus
2020-21: $700K salary, $15.2MM signing bonus
2021-22: $750K salary, $9.7MM signing bonus
2022-23: $750K salary, $7.2MM signing bonus
2023-24: $750K salary, $7.2MM signing bonus
A deal with a cap hit of this magnitude is almost unprecedented for a player coming out of his entry-level contract, and Matthews is now in line to start next season with the second-highest hit in the entire league (pending any other contracts/extensions). Only Connor McDavid's $12.5MM will eclipse the Toronto center, and his eight-year deal bought out four years of unrestricted free agency. Matthews is giving up just a single year of UFA status with this contract, meaning he is now scheduled to hit the open market as a 26-year old in the prime of his career. The Maple Leafs will try to avoid that with another huge extension, but there is little doubt that Matthews has set himself up to be one of the highest earners in NHL history.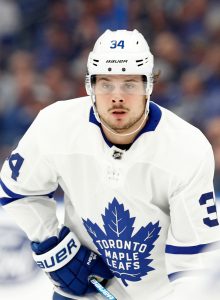 There's good reason for this huge contract. Matthews came into the league after being selected first overall in 2016 and immediately established himself as one of the best goal scorers in the NHL. With four goals in his rookie debut, the 6'3″ center put the league on notice and carried it all the way to a 40-goal, Calder Trophy-winning season in 2016-17. His 32 even-strength tallies led the league that year, and he received votes for the Lady Byng, Selke and Hart trophies. Last year was a bit different, as the Maple Leafs forward dealt with injuries that limited him to just 62 games. Still, he racked up 34 goals and 63 points while still only seeing 18 minutes of ice time a night.
This year has also seen him miss some time with a shoulder injury, but Matthews is playing at an even higher level than the past. With 46 points in 38 games he has a chance to set a career-high and will likely post the third consecutive 30+ goal campaign of his young career. That kind of goal production puts him in elite company, and is a huge part of why he was given the biggest deal possible.
This is, undoubtedly, the biggest deal the Maple Leafs could offer. An eight-year extension would have pushed Matthews' cap hit into a place that made the rest of their roster unmanageable, given the huge contracts already handed out to John Tavares and William Nylander and upcoming negotiation with Mitch Marner—not to mention Kasperi Kapanen and Andreas Johnsson. Matthews' likely eight-year ask was north of McDavid's $12.5MM mark, which would have left the team in an almost untenable situation. In order to avoid that, they had to deal with the fact that Matthews could very well walk away in free agency a few years sooner.
Still, this has dramatic positives for the team. For one, the Maple Leafs now have a much clearer picture of where they stand financially moving forward, and have that knowledge well ahead of this year's trade deadline. If the team is still interested in adding to this group, they can understand much more accurately the picture going forward. Second, after a long and public negotiation with Nylander dragged well into the season, the team can now cross the first name on their list off and focus on Marner's next deal. That negotiation isn't expected to start until after the season at the player's request.
The Maple Leafs have a clear window for success. Signing Tavares last offseason likely shortened it, given the ramifications that it caused like shortening Matthews' contract. GM Kyle Dubas and the rest of the organization are betting that bringing in the $11MM forward from the New York Islanders improves their chances in that shortened window and will hopefully result in their first Stanley Cup in decades. They just doubled down on that bet, and now have six years (including this one) to find some success in the playoffs before dealing with another Matthews contract.
Photo courtesy of USA Today Sports Images