It seems every day there is a new name dominating the headlines around the NHL as we approach the February 25th trade deadline, and today that name is Sergei Bobrovsky. The veteran goaltender will not dress for the Columbus Blue Jackets tonight after an incident took place which "failed to meet expectations and values" of the club. Though a spokesperson for the team originally said the goaltender was expected back at practice on Friday night, Aaron Portzline of The Athletic (subscription required) did a bit more digging and found out that GM Jarmo Kekalainen will have a meeting with Bobrovsky first to determine the next step.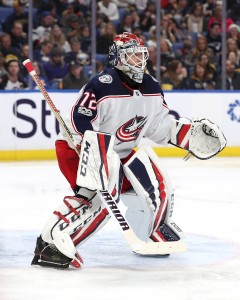 No matter how that meeting goes, there is a bigger question than when Bobrovsky will return to practice—will he be with the team at the end of the season? The 30-year old goaltender will become an unrestricted free agent after the 2018-19 season if he and the Blue Jackets don't come to an extension, something that seemed extremely unlikely even before this latest incident. Now the team must decide whether they even want to keep him past the trade deadline and put him out there for a playoff run, or cash in to get whatever assets they can from a contender looking for an upgrade in net.
It's clear that even if Bobrovsky is mired in one of the worst seasons of his career that he would still be an upgrade for many potential contenders. The two-time Vezina Trophy winner hasn't completely lost his game and is still at an age where goaltenders can usually find success. Even his .906 save percentage is still better than names like Martin Jones, Philipp Grubauer, Jake Allen, Cam Talbot and Mike Smith, all expected to be front line starters at the beginning of the season for their respective clubs. There's little doubt there would be some interest if Bobrovsky was made available.
The problem is that it's not necessarily even Kekalainen's decision. When we asked a similar question yesterday regarding pending UFA forward Wayne Simmonds, less than seven percent of votes believed he would finish the year with Philadelphia. After all, Simmonds has limited no-trade protection (names 12 teams he will not go to) and a struggling team. But Bobrovsky is a different situation not only because of the strength of the Blue Jackets, but also the full no-movement clause he holds. If he doesn't want to go to another team there is no way the team could force it, meaning he also would have a big say in where he ended up.
So where will his season end? Does Bobrovsky get another chance to lead the Blue Jackets back to the playoffs, a place where he has traditionally struggled? Or will a contending team blame the rest of the Columbus organization for failing to win a single playoff series and acquire the veteran goaltender to take that next step in a different uniform? Cast your vote below and explain your reasoning in the comments.
[Mobile users click here to vote]
Photo courtesy of USA Today Sports Images