Topics in this edition of the PHR Mailbag include deadline targets for Vegas, Calgary, and Boston, the goaltending situations in St. Louis and New Jersey, what Vancouver could look to do in the next month, and more.
This mailbag covers the questions that weren't addressed last week.  Click here for that article.
Steve Miller: What kind of trade deadline pickups do you expect from Vegas and what do you feel they need?
With nearly $68MM committed to just 12 healthy players for next season (excluding David Clarkson who will again be on LTIR), I don't think George McPhee has enough financial wiggle room to add someone with term this time around like he did last season.  Accordingly, the focus is going to be on adding expiring contracts.
I think they could stand to add a bit more scoring depth and maybe try to upgrade their third line wings.  Teams with eyes on a long playoff run always want an extra defenseman or two and Vegas wouldn't be an exception to that train of thought.  I could also see them kicking the tires on an upgrade for Malcolm Subban between the pipes or at the very least, some injury insurance.
From their dealings after the Expansion Draft, Vegas has two extra third rounders plus an extra fifth this year.  Between that and their extra cap space (I could see them trying to be a facilitator like they were with Brassard last year), those will be their best trade chips to play.
ThePriceWasRight: Nobody talks about the Flames but this team looks like it is a dangerous matchup for many teams in the West. What addition(s) do you see them making at the deadline?
I think there are a couple of areas they'd like to target.  The first is getting some goaltending insurance.  David Rittich is playing quite well but he still only has 52 career NHL games under his belt.  It's not out of the realm of possibility that as teams start to see him more often, they find some weaknesses to exploit.  Mike Smith is supposed to be a stable veteran but this season has not gone well for him and if they're forced to move him into the number one role if Rittich gets hurt or falters, there's going to be some trepidation.
As much as they're the second-best scoring team in the league, I also think they'd like to add some scoring depth.  Most of their offense comes from their top four forwards and while they're all having career years, a deeper supporting cast would make them even more dangerous for the playoffs while hedging against a team figuring out a way to shut their top trio down.  Basically, they'll probably want to add a rental player to come in and do the job that James Neal was supposed to fill but hasn't (just five goals in 49 games).
Paul Heyman: With the Blues yet again within striking distance of a playoff spot, do they add a goalie to slot in either behind Jordan Binnington or add a starter to move Binnington to a backup role?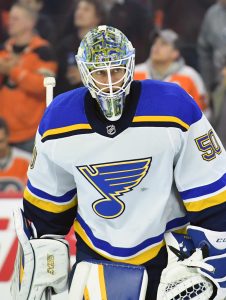 I don't think they will and to be honest, I don't think they should.  St. Louis needs to determine what they have in Binnington.  Is he a part of their future (even if it's as a backup) or not?  Unless he gets to 28 games played (with at least 30 minutes in each), he qualifies for unrestricted free agency (Group Six status) this summer.  Shuffling him to a number two role doesn't allow for much evaluation and could very well result in him leaving in July.  Keep him where he is – if he takes the number one spot from Jake Allen and runs with it, terrific.  If he falters and Allen resumes the starting job, then at least they'll have a better idea about his upside.
While there are some veteran rentals that will likely be available, I don't see one that's going to come in and carry the team on a long winning streak.  With that in mind, why part with a future asset to get one?  Unless someone gets hurt or Binnington goes off the proverbial rails in the next few weeks, I suspect the Blues will stick with what they have.
ripaceventura30: With the recent rumors, do you think a deal could be made involving Wayne Simmonds and Cam Talbot with picks coming to Philly? (For the record, I view Talbot's involvement as more of a salary dump than an asset).
The removal of Peter Chiarelli as GM in Edmonton likely makes this a tough sell but before that, I certainly could have seen them taking a run at Simmonds.  However, I suspect they would have been hesitant to part with their first-round pick to get him which may have made a move like this difficult as that's the type of return Philadelphia will undoubtedly be seeking at this time.
I actually think the Flyers would be wise to look at Talbot down the stretch.  His trade value isn't going to be too high and given his age and track record, I think he's the right fit to partner with Carter Hart for a few years.  If GM Chuck Fletcher can acquire him for a negligible asset, I'd pull the trigger on the move now even though it's adding a rental player to a non-playoff team.  Give that tandem a couple of months together to see if it's the right fit.  If it isn't, it'd be better to know now than after committing a new contract to him.
Mark Black: What does MacKenzie Blackwood's emergence mean for the New Jersey Devils going forward? Surely the Devils aren't looking forward to paying Cory Schneider $6 million a season to be a backup or play in a timeshare situation. What happens? Do Kinkaid or Schneider have any trade value this season?
Blackwood has done enough to play himself into their long-term plans.  He's doing well enough that he should stay up for the rest of the season and be penciled into at least the number two role for 2019-20.  It's hard to see him maintaining a high-end save percentage the rest of the way but even with a little regression, he could still be a quality backup at the very least.
As for the other two, I think Kinkaid has some trade value.  Unfortunately for New Jersey, given Schneider's contract, struggles, and injury woes, that's not something they'll be able to trade their way out of.  With three years left, a buyout probably isn't happening so he's probably the other goalie alongside Blackwood to start next season.
That makes Kinkaid the odd man out.  He has taken a step back this year but his recent track record is still decent.  With a cap hit of just $1.25MM, he's also one of the cheaper rental goalies out there.  I think there are teams that would view him as an upgrade for their number two spot and given that he has shouldered the bulk of the load this year, there should be some comfort knowing that he can handle a bigger workload if injuries arise.  I don't think there will be a huge market for his services but a mid-round pick could be a reasonable return.
thelastonetodie: With Vancouver now holding a playoff spot, and they seem to be in a spot to stay the course and rebuild, do you see Benning getting a nudge by the Aquillini family to make it into the playoffs, just for the sake of making it in?
Given the surprising departure of Trevor Linden and his build it up slow approach for what appeared to be a difference in philosophy with ownership, I wouldn't be surprised if this was the goal for the season in the first place.  One playoff appearance in the last five years isn't ideal and the chance to host a handful of postseason games would certainly be appealing to Aquillini while also giving their young core some playoff experience.  If Vancouver hangs around for a few more weeks, I don't think GM Jim Benning will necessarily need a nudge – he'll probably be looking in that direction anyway.
That said, I suspect the Canucks would be selective with what they'd try to add.  Their top prospects and draft picks will probably be off the table.  That will limit them towards looking for role players or taking on a salary cap dump for cheap.  Making a small move or two like that won't affect the 'organic growth' of the roster while giving them a small boost.  Getting through the next month in this position will be crucial though as moves like this would only happen if they're still in the picture in the days leading up to the deadline.
sovietcanuckistanian: I know Don Sweeney is preaching patience with the youngins, but at what point does the throwing spaghetti at the wall and seeing what sticks (Cassidy's line juggling) become enough? I'm not blaming Cassidy, but at some point they have to find someone to play talisman for the second line no? And given their reluctance (rightfully so I think) to part with too many younger types or too much draft capital, what is – in your opinion – a reasonable/realistic option and what might it cost? Schenn/Simmonds seem ideal – Tarasenko may be pie in the sky-ish?
I suspect the breaking point will come between now and the trade deadline.  Honestly, I respect the patience Boston is showing and allowing their young players to get multiple opportunities to lock down a core spot.  It can be frustrating at times when there are struggles but if that spot can be filled internally, things would really be looking up.  However, it doesn't look like that's going to happen in the next month (I'm not sold that Peter Cehlarik's strong first three games is a sign of things to come) so eventually, Sweeney's going to have to turn to the trade market.
It's going to take top prospects or significant draft capital to land one of Schenn or Tarasenko and as much as they've been in trade speculation lately, I'm not sure the Blues are willing to move them unless there are significant NHL pieces coming the other way.  Simmonds will probably be one of the top rentals so he will also cost a significant prospect or pick.
At this stage, I think they'll look to the rental market again like they did last year.  In fact, I could see them going to the same team and inquiring about Mats Zuccarello.  His value has dipped a bit but he can play both wings and has a decent postseason track record as well.  It shouldn't cost much more than a second-round pick to get him.  I could see them going after Justin Williams as well, another player whose value has probably dropped a bit but has had plenty of postseason success.  Again, it shouldn't cost much more than a second rounder and that would allow them to use their top trade chips to try to fill the vacancy down the middle.
This offseason is when I think Sweeney will look to fill that spot on a more permanent basis.  They should have a bit of cap space to go after a free agent if they want to go that route but if they want to take a run at a Schenn or a Tarasenko, the summer is the time where players like that will probably be dealt as June has become the month for big trades for players with term on their deals.
Photo courtesy of USA Today Sports Images.