The Pittsburgh Penguins have been without one of their best puck-moving defensemen since early October. That's when Justin Schultz was put on injured reserve with a broken leg, following his collision with Tomas Plekanec in a game against the Montreal Canadiens—so long ago that Plekanec is no longer even in the NHL. Schultz hasn't skated with the team in a formal setting at all during the months that followed, that is until today when he joined his teammates on the ice for their morning skate. By no means does this indicate that Schultz will suit up for the Penguins tonight against the Tampa Bay Lightning, in fact he may still be out a little while. But he's getting closer, and head coach Mike Sullivan was clear how important this first on-ice session was:
It's a big step. It suggests that he's a whole lot closer, and the next step will be the contact part of the practices. We're going to have some practices coming up over the next week, and we're hopeful that we can get him to graduate into that step. That's the last step before he gets into the lineup.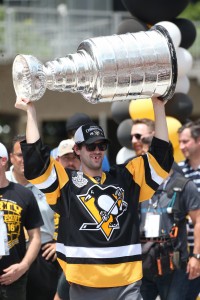 For the Penguins, getting Schultz back will be like making a huge trade deadline addition. It's hard to overstate how important the right-handed defenseman has been when healthy for Pittsburgh since coming over from the Edmonton Oilers during the 2015-16 season. In 163 games, Schultz has recorded 90 points and is a +57, even garnering some Norris Trophy votes in 2017 for his work while Kris Letang dealt with injury. Once he gets back up to speed, the result will be felt throughout the entire defense corps as everyone will fall into more familiar positions.
Still, it also has some financial ramifications. Activating Schultz' $5.5MM cap hit off long-term injured reserve will dramatically shrink what the Penguins have to work with at the deadline, even with their recent trade of Jamie Oleksiak to clear room on both the blue line and under the cap ceiling. While they won't be pressed right up against it, they also won't be able to take on a huge amount of salary at the deadline without moving someone else out. It just so happens that Derick Brassard has been rumored for months to be on his way out of Pittsburgh, but the team will have to be careful with who they target in return.
On the whole though, the idea of getting Schultz back before the deadline should be one of joy for Penguins fans. The offensive-minded defenseman should help an already lethal lineup score even more, as they try to climb back up the Metropolitan Division ladder—not to mention hold off the Buffalo Sabres and Carolina Hurricanes who are nipping at their heels for the final playoff spot in the Eastern Conference.
Photo courtesy of USA Today Sports Images