The Toronto Maple Leafs have gone 2-3 in the five games started by Michael Hutchinson, an emergency fill-in acquired from the Florida Panthers just before the team lost their two NHL goaltenders. Today, both of those goaltenders will be back on the ice as Frederik Andersen has been activated off of injured reserve and Garret Sparks has cleared the concussion protocol. Andersen will start against the Colorado Avalanche with Sparks serving as backup, while Hutchinson has been returned to the AHL for the time being.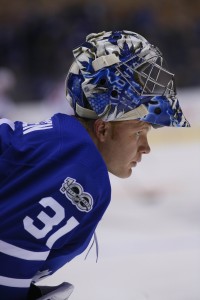 Goaltending has been an interesting position for the Maple Leafs, who lost both Calvin Pickard and Curtis McElhinney on waivers just before the season began. That meant at one point Eamon McAdam was just a Sparks injury away from being the team's starter, a far cry from the deep group they had a year ago. Hutchinson has returned some order to the position with his reliable presence in net the last few games, though the team is obviously thrilled with getting Andersen back.
In fact, the time off may have helped the Danish goaltender immensely. Andersen admitted recently that his groin injury had been affecting his play since December, a month in which he recorded just a .903 save percentage and allowed more than three goals per game. Those are a far cry from his numbers the previous month, where Andersen was playing like a potential Vezina candidate and making the Maple Leafs look like a real contender in the Eastern Conference.
His return comes with just 38 games remaining on the season, meaning he will almost definitely not reach the mark of 66 games he has played in each of the past two years. The team is hoping that rest will keep him fresher for the postseason, given the team's consecutive first-round exits.
Photo courtesy of USA Today Sports Images