As the holiday season quickly approaches, PHR will take a look at what teams are thankful for as the season heads past the one-quarter mark. There also might be a few things your team would like down the road. Let's take a look at what's gone well in the early going and what could improve as the season rolls on for the New York Islanders.  Click here for the other articles in this series. 
What are the Islanders most thankful for?
The fact that the departure of John Tavares to Toronto has not significantly affected the production of their top players.  Josh Bailey had a career year last season after spending a lot of time with the former captain but he's producing at a level not far off of last year's number while leading the team in scoring.  Meanwhile, new captain Anders Lee is at the same point-per-game mark as last year as well.  There's no denying that they miss Tavares but they're certainly thankful that his frequent linemates from the past aren't missing a beat without him.
Who are the Islanders most thankful for?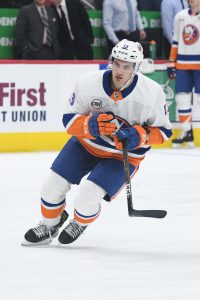 Mathew Barzal.  While his numbers have dipped a little bit, the second-year center hasn't really been hit by the sophomore slump and has adapted well to becoming their top pivot.  It's not looking as if he's going to be a big scorer in the NHL but he is already a premier playmaker.  They're also quite thankful that they have five more years of team control on him so it's safe to pencil him in as part of their long-term future.  New York is also quite thankful with the way the trade to get him worked out – the Oilers gave up first and second round picks for young defenseman Griffin Reinhart and the Islanders landed Barzal with the first rounder.  (They traded up on the second rounder they got, getting into the first round to select Anthony Beauvillier who is tied for second on the team in goals.)  That trade just keeps on giving.
What would the Islanders be even more thankful for?
A rebound from defenseman Nick Leddy.  He has been a go-to fixture on their back end since he was acquired from Chicago back in 2014.  That has not been the case this season.  He has struggled defensively while his offensive game has been non-existent.  They need him to shore things up at both ends of the ice as that would go a long way towards helping them stay in the playoff hunt.
Getting Lee locked up long-term is something they'd also be thankful for.  They're running a risk in naming a pending UFA as team captain as the optics of losing a captain for free in free agency for two straight years won't be pretty.  It would also get their top scoring threat locked up and give them another piece to build around.
What should be on the Islanders' Holiday Wish List?
Goaltending has surprisingly been a strong point for them which makes it less of an immediate priority.  That said, it wouldn't be shocking to see Lou Lamoriello look to add another proven option between the pipes.  A top-four defender would also be a huge addition for a back end that goes by more of a by-committee approach.  New York is also in the bottom ten of the league in goals scored so some top-six help (preferably a center to give them some more versatility) would also be useful.  The Islanders are doing well to hold onto a playoff spot so filling even one of these skater vacancies would go a long way towards helping their cause.
Photo courtesy of USA Today Sports Images.