As the holiday season approaches, PHR will take a look at what teams are thankful for as the season heads past the one-quarter mark. There also might be a few things your team would like down the road. Let's take a look at what's gone well in the early going and what could improve as the season rolls on for the Montreal Canadiens.  Click here for the other articles in this series. 
What are the Canadiens most thankful for?
Keeping afloat in the standings without Shea Weber.  While the defenseman isn't among the top few blueliners in the league like he once was, he still is Montreal's best threat from the back end.  There were some concerns that Montreal could have found themselves too far removed from the playoff picture but when their new captain returned after missing the first 24 games of the season (not to mention the final 56 contests in 2017-18), they were still holding onto a Wild Card spot, a position they continue to hold down today.  Instead of having to make up lost ground, they're in the thick of the playoff race.
Who are the Canadiens most thankful for?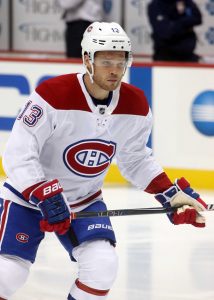 Montreal's decision to deal Alex Galchenyuk to Arizona in exchange for Max Domi in the offseason was met with plenty of skepticism and derision.  Galchenyuk was one of their top scoring threats on a team that wasn't exactly known for its offense while Domi was coming off of a very disappointing season that saw him just score nine times in 82 games (and four of those came into an empty net).  It had also appeared that the Canadiens had dealt one of their top trade chips without addressing a long-standing need of finding a top center.
What a difference a year makes.  Domi has been Montreal's top forward all season long, is averaging a point per game, and is doing so while playing center, something Arizona tried briefly last season but opted against it and moved him back to the wing.  All of a sudden, with him and youngster Jesperi Kotkaniemi in the fold, their biggest weakness actually looks like it could be a strong point for the foreseeable future.
What would the Canadiens be even more thankful for?
As a result of Carey Price's new contract kicking in, Montreal now sits at the top of the league when it comes to money spent on goaltending (by a considerable margin over second place Boston).  They aren't getting much bang for their buck.  Price and backup Antti Niemi have combined for a .894 save percentage this season and sit in the bottom ten of the league in goals allowed.  Many believed that if the Canadiens were going to compete for a playoff berth this season, it was going to be on Price's back.  Instead, they're in the mix despite subpar play between the pipes more often than not.
What should be on the Canadiens' Holiday Wish List?
The right side of Montreal's back end is set with Weber, Jeff Petry, and Noah Juulsen.  However, the left side remains a collection of unproven players and veteran depth options.  If they intend to make a playoff push, they will need to upgrade on that side.  Beyond that, finding a way to make a pre-emptive roster move before winger Joel Armia returns later this month over waiving a player and hoping for the best (something they've done three times already this season with limited success) will be on GM Marc Bergevin's short-term agenda.
Photo courtesy of USA Today Sports Images.