When the San Jose Sharks strode up to the podium at June's NHL Entry Draft, there was plenty of talent left on the board. They had the 21st pick of the draft, and big names that had been talked about for months like K'Andre Miller, Joe Veleno and Dominik Bokk were still available. They could have even taken Isac Lundestrom, one of the few players from the draft who has already made his NHL debut. Instead, the Sharks threw caution to the wind and selected one of the most polarizing figures in the entire field, Ryan Merkley.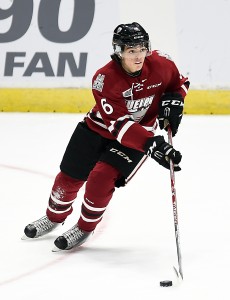 Merkley was one of the youngest players eligible for the 2018 draft, and didn't turn 18 until nearly two months after his selection. That youth, combined with some much publicized attitude issues scared away several teams. Once considered a potential top-5 or top-10 pick, he very well could have fallen out of the first round entirely if the Sharks hadn't snapped him up in the later part of the round. Playing for the Guelph Storm, Merkley recorded 55 and 67 point seasons in his first two years in junior, easily showing off his skill from the blue line as one of the most exceptional passers in the league. This year he is off to an even better start, recording 39 points in 28 games for the Storm.
Those 28 games are all he'll play for Guelph this year though, as today the team traded Merkley to the Peterborough Petes in exchange for Pavel Gogolev and a package of five draft picks (three of which are conditional). It's not often you see a team that is in a playoff chase trade away arguably their best player, but the Storm must have felt it was the right time to cash in on their star defenseman. The Petes meanwhile will add a top talent as they try to compete in the OHL's Eastern Conference with the likes of Ottawa and Sudbury.
Merkley was noticeably absent from the World Junior selection camp roster, but that likely has more to do with his age and the high level of competition than anything else. Unless he surprises everyone and makes the Sharks roster out of camp next year, you can be he'll be among those competing to play in next year's tournament. In fact, he very well could be the star puck-mover on that team, given how dominant he projects to be in the OHL next season.
Photo courtesy of USA Today Sports Images