As the holiday season approaches, PHR will take a look at what teams are thankful for as the season heads past the one-quarter mark. There also might be a few things your team would like down the road. Let's take a look at what's gone well in the early going and what could improve as the season rolls on for the Edmonton Oilers.  Click here for the other articles in this series. 
What are the Oilers most thankful for?
A very jumbled Pacific Division.  No team has truly run away as a contender just yet and second through seventh place are separated by just eight points.  As a result, Edmonton still is right in the thick of a push for a playoff spot despite not a whole lot going well.  They've fired their coach, are struggling to score, and have a goaltending controversy with their starter struggling.  Despite all that, they're three points out of a top-three spot in the division.  There aren't many times where that much can go wrong early on and still be that close to a postseason position but this is one of them.
Who are the Oilers most thankful for?
Could it be anyone other than Connor McDavid?  The two-time Art Ross Trophy winner is the top player in the NHL in the eyes of many and he continues to get better.  New bench boss Ken Hitchcock is using him even more with his playing time approaching 25 minutes a game most nights and the 21-year-old has shown he's up to the task.  McDavid is the type of player that a franchise can be built around and he has already made a long-term commitment to the team, inking an eight-year deal with the team last season.  He's the most expensive player in the league but he is living up to his price tag.
What would the Oilers be even more thankful for?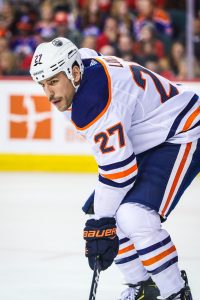 Getting some sort of positive contribution from Milan Lucic.  He was brought in with the hope that he could provide some grit and scoring alongside McDavid and in his first season with the team in 2016-17, he fared relatively well.  However, last season he struggled considerably while 2018-19 has been nothing short of an unmitigated disaster thus far.  He has just a single goal in 28 games while his playing time is down to just 14:28 per night, his lowest since his rookie season.  Considering he has four years left after this one with a $6MM cap hit on a contract that is basically buyout-proof thanks to the signing bonuses, the Oilers are stuck with him for the foreseeable future.  Finding a way to get any production out of him would be huge.
What should be on the Oilers' Holiday Wish List?
While Edmonton has surprisingly had difficulties scoring this season, their focus should be shoring up their back end.  They have enough depth in the system but a top-four defenseman would go a long way towards bolstering their playoff chances, especially with a greater emphasis on defense under Hitchcock.  However, cap space is at a premium so they will likely have to move a notable contract out in order to get an impact defender.
Photo courtesy of USA Today Sports Images.