Christmas has come just a couple of days late for Jake Guentzel, but he isn't complaining. The Pittsburgh Penguins have signed the forward to a five-year extension worth $30MM. Guentzel was scheduled to become a restricted free agent this summer, but will now be with the team at least through the 2023-24 season at a cap hit of $6MM. He will become the team's fourth highest-paid forward behind only Evgeni Malkin, Sidney Crosby and Phil Kessel.
CapFriendly reports the breakdown of the contract is as follows:
2019-20: $7MM
2020-21: $5MM
2021-22: $7MM
2022-23: $5MM, 12-team no-trade clause
2023-24: $6MM, 12-team no-trade clause
At first blush the contract may seem steep because it vaults Guentzel into the upper echelon of salaries in the league—only 61 forwards in the entire NHL carry a $6MM cap hit this season—but there is certainly reason to believe that the third-round pick deserves every penny. Selected 77th overall in 2013 out of the USHL, Guentzel then attended the University of Nebraska-Omaha for three seasons where he refined his game and started showing his innate ability to perform in the most important moments. Leaving school after three seasons to join the Wilkes-Barre/Scranton Penguins, Guentzel led the AHL team in scoring during the playoffs with 14 points in 10 games.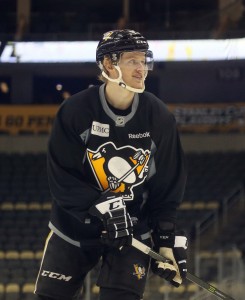 The undersized but fearless forward would eventually make his NHL debut in the 2016-17 season and score on his first shift (and his first shot), and end up as a key contributor down the stretch. Once again Guentzel would come through in the playoffs, leading the team with 13 goals en route to a Stanley Cup. That performance was improved upon the following spring, when he recorded 21 points in 12 games only to be knocked out in the second round. The young forward had certainly cemented himself as one of the most important players on the Penguins, if only for his postseason performances.
Still, there was obviously still some work to do in the regular season. Guentzel had struggled at times during his first full year, registering only 48 points in 82 games last season despite seeing time with future Hall of Fame players. Any doubts the team had in him have been put to rest this year, as the 24-year old has 33 points through 36 games and is averaging more ice time than even Kessel. GM Jim Rutherford explained exactly how the young forward has developed over the last few years:
Jake established himself as an impact player for our team from the beginning, especially during 2017 Stanley Cup playoffs. He has become a core player on the team and we are thrilled to get Jake signed long-term with the Penguins.
Despite only just coming off his entry-level contract, Guentzel was going to be eligible for salary arbitration this summer and would have had a good case for a huge raise. He also is much closer to unrestricted free agency than most players signing their second contract, meaning this deal will actually buy out two UFA seasons. At the pace he's going, those unrestricted free agent years would have been worth much more than $6MM, explaining how the Penguins came to the $30MM number.
In fact, with the salary cap expected to rise again next season and recent contracts like the one William Nylander signed setting the market, $6MM actually may be a bit of a bargain for the Penguins. Even so, it will almost surely force them to make some tough decisions at other spots on the roster given that they have nearly $80MM tied up in 15 players for next year including Justin Schultz' $5.5MM cap hit that is currently sitting on long-term injured reserve. With Zach-Aston Reese, Juuso Riikola and Marcus Pettersson all still scheduled for restricted free agency, there may not be any room to re-sign names like Derick Brassard or Casey DeSmith.
Regardless, the team now has a core player locked up long-term in Guentzel and will continue to find ways to build around him. If his playoff performance continues, there's no telling how valuable he could really become.
Photo courtesy of USA Today Sports Images