The 2019 unrestricted free agent class was supposed to be extremely deep and productive. Tyler Seguin, Drew Doughty, Oliver Ekman-Larsson, and many others were scheduled to hit the open market in a wave of superstars that we had never seen before. Those players have already signed long-term extensions though, and others should be expected to follow suit. That leaves the amount of actually game-changing players available next summer drastically reduced, giving those who remain unsigned some additional leverage in contract negotiations. That leverage was on display today when Jeremy White of WGR Buffalo radio tweeted that Jeff Skinner's early ask is an eight-year contract extension somewhere between $9.0-9.5MM per season. He's currently on the last season of a six-year deal that carries a $5.725MM cap hit, and has a full no-movement clause.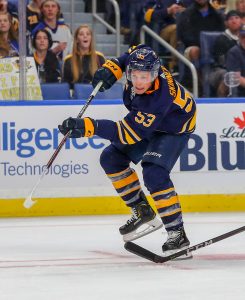 There is obviously still plenty of work to be done in a potential extension of that magnitude, especially given that the Sabres can't technically sign Skinner to an eighth year until after this season's trade deadline. That salary number shows how the market has shrunk, and reflects on Skinner's outstanding performance early this year. After being acquired by the Sabres this summer, the 26-year old sniper is off to the best start of his career, scoring 14 goals and 21 points in his first 20 games. That is a 57-goal pace for the season, and though it seems extremely unlikely he reaches those heights he is obviously enjoying playing with his talented new linemates. It's not like Skinner hasn't been an effective goal scorer in the past, as the seventh-overall pick from 2010 scored 31 as a teen-aged rookie and has twice broken the 30-goal mark since then. His career high came in 2016-17 when he recorded 37 goals in just 79 games with the Carolina Hurricanes.
Buffalo meanwhile have gotten off to a strong start after huge changes to their roster in the offseason. Not only did Skinner join the forward group, but Ryan O'Reilly and other assets were traded away for additional players like Vladimir Sobotka, Patrik Berglund, Tage Thompson and Conor Sheary, while Casey Mittelstadt and Rasmus Dahlin have become full-time options as rookies.
Skinner has fit in beautifully in Buffalo, but there should be some pause before handing out a market-setting extension like the one proposed. The Sabres already have $10MM per season locked into captain Jack Eichel, and have to be sure that they're handing out their next big deal to the right player. If young options like Mittelstadt and Dahlin develop as expected, it won't be long until there needs to be ample cap space to get them under long-term deals of their own. That's not to say that Skinner isn't a desirable asset though, as the early start he was given in the NHL means he'll reach unrestricted free agent status less than two months after his 27th birthday. Paying a UFA is always dangerous, but the risk is at least reduced somewhat when they are that young.
For now, the Sabres are likely just focused on their game tonight against the Pittsburgh Penguins and their spot in the Atlantic Division. Buffalo sits third in the standings behind the Tampa Bay Lightning and Toronto Maple Leafs, and well within the playoff race through a quarter of the season. With a 12-6-2 record and a positive goal differential, there is likely plenty of good will to spread around among the team's newcomers. GM Jason Botterill and company will have some tough decisions coming up, but at least they are how to improve an already improving team, and no longer how to maximize their odds in the NHL draft lottery.
Photo courtesy of USA Today Sports Images