The calendar is about to turn over to November, and like the seemingly daily updates that have come out for the past few months there is no progress in talks between the Toronto Maple Leafs and restricted free agent William Nylander. Elliotte Friedman of Sportsnet calls the situation "a deadlock" in his latest 31 Thoughts column, and notes that the team will have to start considering a trade at some point. That leads right into Frank Seravalli of TSN's first Trade Bait board of the season, which lists Nylander at the very top of a group of 15 players. Seravalli reports that "teams have been calling the [Maple] Leafs left and right" to inquire about Nylander, though Toronto is continuing to turn them away.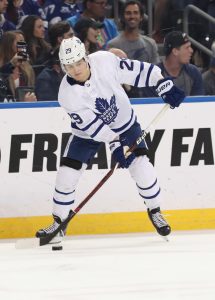 Now just a month away from the December 1st deadline—which would make Nylander ineligible to play at all this season should he fail to have a contract by then—pressure is starting to really build between the two sides. Pierre LeBrun of The Athletic again pointed towards the Carolina Hurricanes as a team that has interest in Nylander, something that Seravalli agrees with noting that they've made it "explicitly clear" that they would put in an offer if Toronto makes him available. While there is no reason to believe a trade is the likely outcome at this point, there are obviously teams ready to pounce if the young forward is ever shopped around.
There's good reason for that interest, given the consecutive 61-point seasons Nylander has recorded and strong overall performance for the Maple Leafs. Though he hasn't played yet this season, there is considerable upside for any team who could pry him loose and get him under contract. Remember though that any team that is trading for him would need time to work out their own contract before the deadline, making the real deadline for Toronto even sooner than that December 1st threshold.
All of this is moot if the two sides can get together on something, but from all accounts Toronto GM Kyle Dubas has stuck to a number or salary range that would allow him to fit everyone into their structure going forward. With Auston Matthews and Mitch Marner still to sign next summer, Maple Leafs President Brendan Shanahan has publicly stated that some players may have to take a little less in order to win in Toronto. He pointed to how John Tavares turned down more lucrative offers in free agency, while explaining that his former Red Wings teammates may have done the same when they were trying to make a dynasty in Detroit. There has been no sense from the Nylander camp one way or the other how they feel about that kind of a situation, other than the high priced long-term asks at the beginning of the negotiation.
Photo courtesy of USA Today Sports Images