With the NHL season now just underway, we continue our look at what each team has done this summer and what to watch for in the year to come. Next up is a look at the Chicago Blackhawks.
Last Season: 33-39-10 record (76 points), seventh in the Central Division (missed the playoffs)
Remaining Cap Space: $3.46MM per CapFriendly
Key Additions: D Brandon Davidson (free agent, NY Islanders), F Dominik Kahun (free agent, EHC Munchen, DEL), F Marcus Kruger (trade with Arizona), F Chris Kunitz (free agent, Pittsburgh), D Brandon Manning (free agent, Philadelphia), G Cam Ward (free agent, Carolina)
Key Subtractions: F Lance Bouma (free agent, Geneve-Servette, NLA), D Adam Clendening (free agent, Columbus), F Anthony Duclair (free agent, Columbus), F Vinnie Hinostroza (trade with Arizona), F Marian Hossa (trade with Arizona), F Tomas Jurco (free agent, unsigned), D Jordan Oesterle (trade with Arizona), F Patrick Sharp (retirement)
[Related: Blackhawks Depth Chart From Roster Resource]
Player To Watch: F Jonathan Toews – For many years, Toews' reputation around the league has been that he is one of the top centers in the game.  He checks off all of the boxes as a leader, a good defensive player that takes all the tough matchups, a well-above-average performance at the faceoff dot while still putting up good offensive numbers.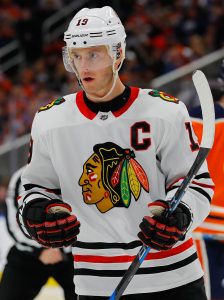 However, that reputation hasn't really changed despite his output declining.  He put up just 52 points last season, the second lowest total of his career (his lowest came in the lockout-shortened 2012-13 campaign where he had 48 points in 47 games).  While 52 points isn't a bad number by any stretch, he's carrying a $10.5MM cap hit and given Chicago's annual salary constraints, they're counting on more from him.
Toews is entering the season as their top pivot once again and with Nick Schmaltz and Artem Anisimov behind him, he probably isn't going to get pushed for ice time anytime soon.  The Blackhawks are for the most part bringing back the same roster that failed to get the job done last season.  They'll be turning to their captain to help lead the turnaround and will be counting on him to be more productive if they want to get back into the playoff mix.
Key Storyline: After last year, patience wound up being the surprising theme.  Stan Bowman remains as GM while Joel Quenneville is still behind the bench.  Meanwhile, their most notable move of the summer was donating Hinostroza to the Coyotes to get them to assume the remainder of Hossa's contract; the core of the team remains the same.
The fact that Hossa is gone gives the Blackhawks something they haven't had in quite some time, cap flexibility.  Instead of scrounging to free up a little bit of money for late-season additions, Chicago should have the ability to make a move early if things start to go off the rails early.  If not, they'll be able to add without necessarily having the other team needing to retain salary or take an offsetting contract back.
Either way, it's hard to envision Chicago's patience lasting another full season.  Something's going to have to give at some point, whether it's in the form of player movement or changes off the ice.  It's not a question of if, but rather when it happens.
Overall Outlook: Considering how poorly things went last season and the fact it's largely the same roster, it's tempting to write Chicago off already.  However, a healthy Corey Crawford (he's expected to return within the next couple of weeks) and a return to form from players like Toews and Brandon Saad should have them in the hunt for a Wild Card.  If those players continue to falter though, another season outside the playoffs is a likely outcome.
Photo courtesy of USA Today Sports Images.