With the NHL season now underway, we continue our look at what each team has done this summer and what to watch for in the year to come. Next up is a look at the Arizona Coyotes.
Last Season: 29-41-12 record (70 points), eighth in the Pacific Division (missed the playoffs)
Remaining Cap Space: $7.72MM per CapFriendly
Key Additions: F Alex Galchenyuk (trade with Montreal), F Michael Grabner (free agent, New Jersey) , F Vinnie Hinostroza (trade with Chicago), F Marian Hossa (trade with Chicago – assuming the remainder of his contract), D Ilya Lyubushkin (free agent, Lokomotiv, KHL), D Jordan Oesterle (trade with Chicago)
Key Subtractions: F Max Domi (trade with Montreal), F Freddie Hamilton (free agent, unsigned), F Jordan Martinook (trade with Carolina), D Luke Schenn (free agent, Anaheim)
[Related: Coyotes Depth Chart From Roster Resource]
Player To Watch: F Dylan Strome – While it is typically unfair to say a 21-year-old player is in a make-or-break year, it certainly feels that way when it comes to Strome.   In an era where top picks are making an NHL impact right away, he has been an exception as he heads into 2018-19 with just 28 NHL games under his belt.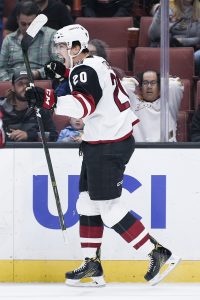 Strome was drafted as Arizona's center of the future back in 2015, earning himself the third overall selection.  To say he was dominant at the junior level after being drafted would be an extreme understatement.  To say he was productive in the minors last year (his first season of AHL eligibility) would also be one.
However, when the NHL opportunities have been there, he hasn't fared anywhere near as well.  His skating has been a concern and as the league is trending towards being faster and faster, this has been a point of emphasis in his development.  If he's going to become that core center they hope he can be, he'll need to improve.
Injuries to Alex Galchenyuk and Christian Dvorak have opened up an opportunity for Strome to play an important role with Arizona early on and he has fared well in a short sample size thus far.  However, if he falters, he could find himself back in the minors before too long which will only amplify the questions about his long-term potential.  Even though he's just 21, there is a lot riding on this season for Strome.
Key Storyline: Goaltending has been a question mark in the desert for a while now and while there are still questions about their current duo, there's also more optimism than there has been lately.
When healthy, Antti Raanta has very quietly been a very effective goalie.  However, injuries have been a concern and as a result, he has yet to play a full season with a number one workload.  The closest he came was last season where he played in 47 games.  However, he also had four separate injuries.  If he can maintain his performance from last year and stay healthy, Arizona should be in great shape.  However, both of those ifs are certainly question marks.
Darcy Kuemper has had a bit of a tumultuous last few years.  He went from someone that Minnesota hoped could push for the number one role to someone that had to sign for the league minimum last summer to someone that was viewed as a higher quality backup, all in the span of a couple of years.  The 28-year-old fared quite well with the Kings last season which enabled him to nearly triple his previous AAV upon being dealt to the Coyotes.  However, he didn't play well after the trade.  Is he the high-end backup he was in Los Angeles that could push for more playing time or was that an aberration and he's more of a run-of-the-mill number two?  Given Raanta's injury history, they're clearly banking on the former but it's far from a given.
If everything goes well, Arizona could quietly have one of the better goalie duos in the league.  However, there is certainly some risk associated with both netminders which makes this a key factor in their success for this season.
Overall Outlook: The Coyotes were a popular sleeper pick throughout the summer and with good reason.  Their young core is a year older while Grabner and Galchenyuk give them an improved scoring touch up front while the back end remains solid.  They're not in the echelon of the top teams in the division but after being an afterthought for the past few years, Arizona should be in the mix for a Wild Card spot in 2018-19.
Photo courtesy of USA Today Sports Images.