Navigating the Salary Cap is probably one of the more important tasks for any general manager to have. Teams that can avert total cap chaos by walking the tightrope of inking players to deals that match their value (or compensate for future value without breaking the bank) remain successful. Those that don't see struggles and front office changes.
PHR will look at every NHL team and give a thorough look at their cap situation heading into the 2018-19 season. This will focus more on those players who are integral parts of the roster versus those who may find themselves shuttling between the AHL and NHL. All cap figures are courtesy of CapFriendly.
Current Cap Hit: $66,183,333 (under the $79.5MM Upper Limit)
Entry-Level Contracts
D Travis Dermott (two years, $863K)
F Kasperi Kapanen (one year, $863K)
F Par Lindholm (one year, $925K)
F Mitch Marner (one year, $894K)
F Auston Matthews (one year, $925K)
D Igor Ozhiganov (one year, $925K)
Potential Bonuses:
Lindholm: $850K
Marner: $850K
Matthews: $2.85MM
Ozhiganov: $850K
Total: $5.4MM
You'd be hard-pressed to find a team that's getting more value out of their entry-level players right now.  Matthews has quickly established himself as one of the top centers in the league and between that and his draft pedigree, he's likely looking at a contract around the $10MM mark for next season.  Marner hasn't received quite as much hype as Matthews but he led Toronto in points last year and will be in line for a significant raise of his own.  He shouldn't get quite as much as Matthews will but he'll only be a couple of million shy.  Kapanen impressed in a late-season showing and was a regular in the postseason.  His role will still probably be limited which makes him a strong bet for a short-term deal next summer.  Lindholm was brought in to contend for the fourth line center spot but even if he succeeds in landing that spot, a big raise is unlikely.
On the back end, Dermott worked a midseason recall into a regular spot and he should be able to hold down at least close to a full-time role.  If he does that over the next couple of seasons, he'll be well-positioned to double his current AAV at the very least.  Ozhiganov was brought over to push for a roster spot on the right side that doesn't have a ton of depth at the moment.  He could need some time in the minors to get acclimated to the shorter ice surface but they'll be counting on him to contribute at some point.
One Year Remaining, Non-Entry-Level
D Connor Carrick ($1.3MM, RFA)
F Tyler Ennis ($650K, UFA)
D Jake Gardiner ($4.05MM, UFA)
D Ron Hainsey ($3MM, UFA)
F Andreas Johnsson ($788K, RFA)
F Josh Leivo ($925K, RFA)
G Curtis McElhinney ($850K, UFA)
G Garret Sparks ($675K, RFA)
Leivo was essentially a full-time reserve forward last season but Toronto thought enough of him to sign him to an in-season extension to stop him from potentially hitting Group Six free agency.  Despite the small raise in pay, there's a decent chance he finds himself in a similar role in 2018-19 which won't help his bargaining power.  Johnsson played well in the postseason but with such a limited track record, he opted to simply take his qualifying offer and will bank on a strong first full NHL season helping him get a bigger raise one year from now.  Ennis is making a lot more than just the $650K thanks to his buyout from Minnesota and he will push to crack the fourth line and try to rebuild some value.
Gardiner had a rough showing in Toronto's final playoff game but has been a critical part of their back end for several years now.  He's also coming off of a career year offensively and a repeat of that would make him even more coveted next summer.  With what the Leafs will soon have tied up in their forward group, they may be in tough to give Gardiner the raise he'll be able to get if he tests the open market.  Carrick was a frequent healthy scratch last year and still managed to land a small raise.  If that repeats itself this coming season, however, he may become a non-tender candidate as they will be looking to round out their back end with cheaper depth options.
McElhinney had a nice year as the backup and really hasn't done anything to lose the position.  However, Sparks, who is ten years younger, had a good year at the AHL level and would need to clear waivers to return there.  With that in mind, this will be a battle to watch during training camp.
Two Years Remaining
F Connor Brown ($2.1MM, RFA)
F Nathan Horton ($5.3MM, UFA)
F Patrick Marleau ($6.25MM, UFA)
Marleau's decision to leave San Jose for Toronto caught many by surprise but he fit in well in a secondary role.  Of particular interest with his deal is that after July 2, 2019, only $1.25MM in actual salary will remain on the deal so if they need to try to free up some cap space, this deal is one that they will likely try to move (pending Marleau waiving his no-move clause, of course).  Brown's numbers dipped a bit last season but so did his ice time so that's somewhat understandable.  He's in the middle of his bridge deal and should be in line for a decent raise two summers from now.  Horton hasn't played since April of 2014 and won't play on these final two years of the deal.  With the bonuses for Matthews and Marner, Toronto will want to avoid placing Horton on LTIR this coming season (to avoid the bonus overage) so his deal being on the books will be more of a factor than it has been.
Three Years Remaining
G Frederik Andersen ($5MM, UFA)
F Zach Hyman ($2.25MM, UFA)
Hyman bypassed a bridge deal last summer in exchange for some more security and in doing so, he gives the Maple Leafs a decent bargain for someone who spends a lot of time in their top six.  He's not as impactful of an offensive player as some others but a complementary forward that plays as much as he does for that rate is pretty good.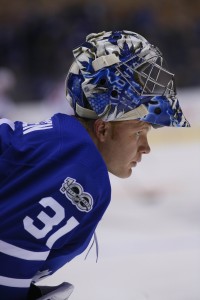 Toronto quickly locked up Andersen shortly after acquiring him and he has certainly out-performed his contract so far.  The Leafs have struggled in the defensive zone which has made him face plenty of shots and despite the heavy workload, he has handled it well and even finished fourth in Vezina voting last season.  As goaltending salaries continue to escalate, Andersen now finds himself 17th league-wide in cap hits among goalies and is right around the median overall.  With what they're about to commit to their forwards, they'll need to keep their spending between the pipes in check and this contract allows them to do so.
Four Or More Years Remaining
F Nazem Kadri ($4.5MM through 2021-22)
D Morgan Rielly ($5MM through 2021-22)
F John Tavares ($11MM through 2024-25)
D Nikita Zaitsev ($4.5MM through 2023-24)
Tavares signing in Toronto was the story of the summer.  Not only does he have the second-highest cap hit among all NHL players, there's also a good chance that GM Kyle Dubas will be looking to use this deal as the comparable and ceiling for Matthews' next deal.  He gives the Leafs an elite one-two punch down the middle which is something that every team wants and very few actually have.  Kadri has quietly become one of the better goal-scoring centers in recent years while playing an important shutdown role as well.  It will be interesting to see how much playing time he'll lose with Tavares in the fold and how much that might affect his overall performance.  If he struggles to adapt to that role, teams around the league will be lining up to try to add him to their top-six.
Reilly has blossomed into a legitimate top pairing player despite not always having the best of supporting casts to work with.  He will be the anchor of their back end through the rest of his contract.  The Leafs were hopeful that Zaitsev would be a core piece as well but his sophomore campaign wasn't particularly strong.  If he can rebound a bit and hold down a spot on the second pairing though, the deal won't sting too much.
Buyouts
F Mikhail Grabovski ($1.792MM through 2020-21, compliance buyout so cap-exempt)
Retained Salary Transactions
F Phil Kessel ($1.2MM through 2021-22)
Still To Sign
Best Value: Kadri
Worst Value: Horton (due to his deal being uninsured), Zaitsev among active players
(Excluding entry-level contracts)
Looking Ahead
Toronto should still have plenty of cap space for 2018-19 after Nylander signs but they will want to keep a lot of that to absorb potential bonuses.  Accordingly, it wouldn't be surprising to see them wait to add to their roster until closer to the trade deadline when the incoming salaries aren't quite as large.
Long-term, they will be an intriguing team to watch.  Dubas is on record stating that he believes he can keep their top four forwards intact even after their young stars sign second contracts but how much would he have to gut the rest of the roster to do so?  Or would they be better off moving one of those players for what undoubtedly be a kings' ransom?  One way or the other, don't get used to seeing the Maple Leafs towards the bottom of the spending ladder – they'll be back right up against the cap for 2019-20 and beyond.
Photo courtesy of USA Today Sports Images.