Navigating the Salary Cap is probably one of the more important tasks for any general manager to have. Teams that can avert total cap chaos by walking the tightrope of inking players to deals that match their value (or compensate for future value without breaking the bank) remain successful. Those that don't see struggles and front office changes.
PHR will look at every NHL team and give a thorough look at their cap situation heading into the 2018-19 season. This will focus more on those players who are integral parts of the roster versus those who may find themselves shuttling between the AHL and NHL. All cap figures are courtesy of CapFriendly.
Current Cap Hit: $69,880,000 (under the $79.5MM Upper Limit)
Entry-Level Contracts
F Kevin Fiala (one year, $863K)
F Eeli Tolvanen (three years, $894K)
Potential Bonuses:
Fiala: $500K
Tolvanen: $963K
Total: $1.463MM
Fiala's first full NHL season was a strong one as he wound up finishing fourth on the team in goals despite averaging just over 15 minutes per game.  A repeat performance would bolster his potential for a long-term deal and the Preds certainly haven't been hesitant to lock their players up quickly. Tolvanen came over from the KHL late in the year but didn't see much action.  He's starting in the minors but his European Assignment Clause could force a recall fairly quickly.  Worth noting is that his potential bonuses jump to the maximum of $2.85MM in each of the final two years of his deal.
One Year Remaining, Non-Entry-Level
D Anthony Bitetto ($650K, UFA)
F Ryan Hartman ($875K, RFA)
F Colton Sissons ($625K, RFA)
G Pekka Rinne ($7MM, UFA)
The Predators paid a high price to acquire Hartman who proceeded to play a very limited role for them down the stretch and into the postseason.  That made this current bridge deal a bit of a no-brainer and if he's buried inside their bottom six again in 2018-19, another one-year pact is a very realistic possibility.  Sissons went from a relative unknown to someone who has carved out a regular role and has been surprisingly productive in the postseason.  That will undoubtedly result in a nice raise, especially since he will have arbitration eligibility.  Bitetto has been a depth defender for the last few years and will continue to do so as long as he's willing to sign for the league minimum (or close to it).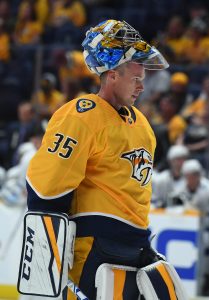 Rinne's case is certainly going to be interesting to monitor.  He's coming off of a very strong regular season with a .927 SV% which was near the top of the league among full-time starters.  However, he also struggled considerably in the postseason and the team has a promising young goalie playing behind him.  Rinne will also be 36 at the start of his next contract.  He's still a capable starter but can't be viewed as more than a short-term stopgap which will likely limit the number of suitors he'll get if he makes it to the open market.  He could conceivably re-sign for a year or two as well but at either rate, there's a good chance he'll be looking at a pay cut on his next contract.
Two Years Remaining
D Dan Hamhuis ($1.25MM, UFA)
D Matt Irwin ($675K, UFA)
D Roman Josi ($4MM, UFA)
F Miikka Salomaki ($750K, UFA)
F Craig Smith ($4.25MM, UFA)
F Austin Watson ($1.1MM, UFA)
D Yannick Weber ($675K, UFA)
Smith is coming off of arguably his best season after having one of his worst in 2016-17.  He's best utilized on the second line and is a capable secondary scorer, albeit an inconsistent one.  That will hurt his market two years from now but if he can stay around the 45-point mark, he still should be able to land a small raise in free agency.  Watson's on-ice performance would warrant a small raise on his next deal but he is dealing with a lengthy suspension from a no contest plea to a domestic violence charge which won't help his case.  Salomaki is more of a depth player and they will either look to bring him back at a similar cost or try someone else at a comparable price tag.
Josi is one of the most underpaid defensemen in the league today.  He's a legitimate top pairing player that's making the type of money that fourth defenders get.  That will change on his next deal where he could conceivably double his current AAV, especially if he was to go elsewhere to a team that doesn't have the allure of no state income tax.  Hamhuis should give their third pairing some much-needed stability and his deal is one of the bargains of the summer.  Like Bitetto, Irwin and Weber represent cheap depth that will be in and out of the lineup for the duration of their deals and they will either re-sign at a similar rate two years from now or be replaced by someone willing to play at or near the minimum.
Three Years Remaining
F Nick Bonino ($4.1MM, UFA)
G Juuse Saros ($1.5M, RFA)
Bonino has failed to make the type of impact that he brought to Pittsburgh.  He's a capable third line pivot but with their top-two locked up long-term, he isn't likely to move up the lineup.  If he stays in this role for the duration of the deal, he'll have a hard time getting another contract like that but it also wouldn't be surprising to see him dealt at one point to a team that's lacking in depth down the middle.
Saros is quite undersized for his position but it hasn't hindered him too much thus far.  His regular season numbers were comparable to Rinne's and he vastly outperformed the veteran in the playoffs.  He's on a team-friendly deal if he stays as the backup but if he ascends to being the starter at some point, he'll become one of the best bargains in the league.
Four Or More Years Remaining
F Viktor Arvidsson ($4.25MM through 2023-24)
D Mattias Ekholm ($3.75MM through 2021-22)
D Ryan Ellis ($2.5MM in 2018-19, $6.25MM from 2019-20 through 2026-27)
F Filip Forsberg ($6MM through 2021-22)
F Calle Jarnkrok ($2MM through 2021-22)
F Ryan Johansen ($8MM through 2024-25)
D P.K. Subban ($9MM through 2021-22)
F Kyle Turris ($6MM through 2023-24)
Johansen hasn't quite lived up to being the legitimate number one center that they're paying him to be.  He's a complementary player who fits in well with his wingers but for that price, it's fair to surmise that they were hoping he'd be more productive.  On the flip side, Forsberg is outpacing his contract.  He led the Preds in scoring last season despite missing 15 games and has established himself as a legitimate top-line player at a team-friendly rate.  Arvidsson showed that he wasn't a one-hit wonder in 2016-17 and now looks like a front liner as well despite making low-end second line money.  Meanwhile, Jarnkrok's deal continues to be an outlier after he opted for long-term security over shorter deals that likely would have yielded more money over the long haul.  He's a nice middle-six option to have and his deal is looking like more and more of a bargain each year.
Subban's contract was the baseline for Drew Doughty's extension in Los Angeles and should serve as that for talks involving Erik Karlsson as well.  He's a legitimate number one defender and while he's the most expensive in the league (for one more year), Nashville certainly has to be happy with what he has provided thus far.  Ellis is on a ridiculously cheap deal for one more season which turns to a relatively cheap one after that.  He's a solid number two/three player in the prime of his career that is capable of playing even more minutes if need be.  Ekholm doesn't get the accolades that the rest of their top three does but he is a stabilizing player that has shown flashes of offensive upside as of late.  He's a fixture in their top-four on yet another team-friendly pact.
Buyouts
F Viktor Stalberg ($1.167MM in 2018-19)
Retained Salary Transactions
None
Still To Sign
None
Best Value: Josi
Worst Value: Johansen
(Excluding entry-level contracts)
Looking Ahead
Nashville is certainly well-positioned to keep the core of this team together for several years.  They have numerous club-friendly contracts on the books which should allow them to re-sign or replace Rinne and Josi over the next two years without going right against the Upper Limit.  From a salary cap standpoint, the Predators are in very good shape.
Photo courtesy of USA Today Sports Images.