Navigating the Salary Cap is probably one of the more important tasks for any general manager to have. Teams that can avert total cap chaos by walking the tightrope of inking players to deals that match their value (or compensate for future value without breaking the bank) remain successful. Those that don't see struggles and front office changes.
PHR will look at every NHL team and give a thorough look at their cap situation heading into the 2018-19 season. This will focus more on those players who are integral parts of the roster versus those who may find themselves shuttling between the AHL and NHL. All cap figures are courtesy of CapFriendly.
Current Cap Hit: $82,772,044 (over the $79.5MM Upper Limit)
Entry-Level Contracts
F Michael Rasmussen (three years, $894K)
F Filip Zadina (three years, $925K)
Potential Bonuses:
Rasmussen: $750K
Zadina: $850K
Total: $1.6MM
Rasmussen was Detroit's top pick in 2017 and is viewed as their center of the future.  He's coming off a fantastic playoff performance with WHL Tri-City and some believe that there isn't much left for him to do at the junior level.  He'll battle for a spot in training camp and if he makes it, he'll likely debut on the wing to get acclimated to the NHL level.  Zadina surprisingly slipped to sixth overall back in June despite being hailed as one of the top goal scorers in the draft.  The Red Wings are of the belief that he could go to the minors and not back to junior so they could conceivably start him in Grand Rapids of the AHL and bring him up midseason.  Either way, there's a good chance he'll get a look at some point with the big club.
One Year Remaining, Non-Entry-Level
F Martin Frk ($1.05MM, RFA)
G Jimmy Howard ($5.292MM, UFA)
D Nick Jensen ($813K, UFA)
D Niklas Kronwall ($4.75MM, UFA)
F Gustav Nyquist ($4.75MM, UFA)
F Thomas Vanek ($3MM, UFA)
F/D Luke Witkowski ($750K, UFA)
Nyquist is coming off his lowest output in five years but still managed to put up 40 points last season.  He's a capable top-six winger but will need to rebound if he wants to have a chance at a raise on the open market next summer.  Otherwise, he'll likely be looking at a small pay cut on his next deal.  Vanek didn't get any extra stability this offseason (aside from a no-trade clause) but he did manage to get a raise on his previous deal.  Assuming he's a productive forward once again with Detroit, he'll garner some trade value midseason and will hit the market next summer in the hopes of landing a similar deal.  Frk has an NHL-level shot but the rest of his game is a work in progress.  That's part of the reason Detroit non-tendered him (to avoid arbitration) back in June before re-signing him shortly thereafter.  Assuming he has a similar year in 2018-19, the non-tender route is the expected outcome once again.  Witkowski will fill a depth role at both the wing and defense (in a pinch) but he could also be waived and sent down to free up a bit of extra cap room.
Kronwall has been a mainstay on Detroit's back end for more than a decade but he is nearing the end of the road.  He acknowledged last month that there have been no talks regarding a possible contract extension and that this could be his final year.  If not, he will be looking at a sizable pay cut next summer as he is better off in a depth role.  Jensen was a regular last season but some have speculated he could be trade bait if one of their prospects makes a push at a spot.  If he can hold down a number six spot (whether that's with Detroit or elsewhere), he should be able to land a small raise on his next deal.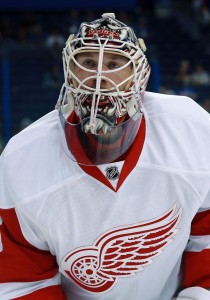 Howard has alternated between good years and bad ones recently and is coming off one that could be classified in the latter category as his numbers were below the league average.  He will likely be given the chance to be the number one once again in training camp but the leash will probably be smaller this time around.  At this point, it's hard to envision him beating his current AAV on his next deal (on top of his inconsistency, he also turns 35 in March) but if he can hold his own as a starter, he could make a case for a deal comparable to Craig Anderson in Ottawa (two years, $4.75MM AAV) as a short-term stopgap.  If not, he'll be trying to market himself as a high-end backup which would likely carry a 50% pay cut.
Two Years Remaining
F Andreas Athanasiou ($3MM, RFA)
F Tyler Bertuzzi ($1.4MM, RFA)
D Trevor Daley ($3.167MM, UFA)
D Jonathan Ericsson ($4.25MM, UFA)
F Johan Franzen ($3.955MM, UFA)
D Mike Green ($5.375MM, UFA)
F Anthony Mantha ($3.3MM, RFA)
Because of the number of big-ticket contracts on the books, Detroit was forced to mostly hand out bridge deals this summer.  Mantha has emerged as a capable top-six winger and if he can continue to progress, he should be looking at a contract north of $5MM per year two summers from now.  Athanasiou avoided a holdout this time around and while he remains an enigmatic player at times, he has some more stability now which could help.  If he puts it all together, he could be in line for a big raise.  If he remains very inconsistent though, he'll be cast as more of a depth player which will limit his earning upside.  Bertuzzi has yet to play a full NHL season but made the most of his 48-game stint last year and showed management that he's worthy of a bigger commitment.  If he can come in and build on that, it's not impossible that he doubles his current cap hit down the road.  Franzen hasn't played since early 2016 and won't due to concussion issues; he'll be LTIR-bound once again.
Green was widely expected to be the top defender on the move back at the trade deadline but neck issues hurt his trade market.  That stopped them from getting a pick or prospect but it may have helped keep him around as he opted to forego testing free agency to sign this deal.  He's not the elite offensive player he once was but he's still Detroit's best threat from the back end and is on a manageable deal.  Ericsson is a better fit on the third pairing but is overpaid for that role – it's safe to say that his next contract will see him taking a reduction in pay.  Daley was quieter than usual in terms of point production but still logged over 20 minutes a night.  For that type of money, that's decent value and if they decide to try to get younger on the back end, his deal shouldn't be too difficult to move.
Three Years Remaining
G Jonathan Bernier ($3MM, UFA)
F Luke Glendening ($1.8MM, UFA)
F Darren Helm ($3.85MM, UFA)
F Henrik Zetterberg ($6.083MM, UFA)
Zetterberg's situation has been well-documented in recent weeks and it has already been established that he won't be ready to play at the start of the season.  That will also result in his placement on LTIR which will get Detroit into cap compliance for the short-term.  If he returns later in the season, that will change but there has been plenty of speculation that this won't be the case.  Helm's deal was panned as a mistake from the moment it was signed and that hasn't changed.  While he is an effective third line speedster, the AAV is too high, the term is too long, and he has a full NTC this season.  That will make him tough to move.  Glendening is being paid a bit of a premium for a fourth liner but his prowess at the faceoff dot will make him coveted by other teams if Detroit opts to shop him.  He should expect to take a pay cut on his next deal, however.
Bernier was brought in to push Howard for minutes this coming season while giving them a bit of stability between the pipes if Howard leaves in free agency next summer.  He is best off as a platoon starter but can take on a larger workload if needed.  He's making more than most backups but he's also better than most backups as well.
Four Or More Years Remaining
F Justin Abdelkader ($4.25MM through 2022-23)
D Danny DeKeyser ($5MM through 2021-22)
F Dylan Larkin ($6.1MM through 2022-23)
F Frans Nielsen ($5.25MM through 2021-22)
Larkin was the one Detroit RFA to get a long-term deal this summer although the team settled for a deal that only bought out one season of UFA eligibility.  With Zetterberg out of the picture, this is Larkin's team and he's locked up at a good rate for a number one center but he'll be poised to hit the open market in the prime of his career.  Nielsen is not the player he was with the Islanders and at this point is better off in a third line role than a second line one.  However, his contract makes it difficult to place him in the bottom six.  He's already 34 and with four years left, it's hard to imagine that he's going to rebound suddenly.  Abdelkader played better than his disastrous 2016-17 campaign but is still not near the level that would justify the contract he has.
DeKeyser is a top-four defender that has been miscast as someone that could play higher minutes.  The state of Detroit's back end has resulted in him playing a role he can't handle which makes a bit of a questionable deal look worse.  If they could get someone in front of him that would allow DeKeyser to play on the second pairing on a full-time basis, the contract would likely look a lot better as it would allow him to play in the role he's best equipped to handle.
Buyouts
D Xavier Ouellet ($167K in 2018-19, $217K in 2019-20)
F Stephen Weiss ($1.67MM through 2020-21)
Retained Salary Transactions
None
Still To Sign
Best Value: Mantha
Worst Value: Nielsen
(Excluding entry-level contracts)
Looking Ahead
If Zetterberg is indeed done for the year (and likely his career), the short-term salary cap issues shouldn't be a problem.  Detroit will still be tight to the Upper Limit in 2018-19 but they'll be in decent shape.  They have some bigger contracts coming off the books each year after that which should give them a bit more flexibility than they've had the last couple of seasons.  The Red Wings are going to be tight to the cap for a while yet but if managed carefully, they should be able to navigate through it without too much difficulty.
Photo courtesy of USA Today Sports Images.