With the NHL season now just a few weeks away, it's time to look at what each team has done this summer and what to watch for in the year to come. Next up is a look at the New York Rangers.
Last Season: 34-39-9 record (77 points), eighth in the Metropolitan Division (missed the playoffs)
Remaining Cap Space: $3.58MM per CapFriendly
Key Additions: D Fredrik Claesson (free agent, Ottawa), D Adam McQuaid (trade with Boston)
Key Departures: F David Desharnais (free agent, Omsk, KHL), D Steven Kampfer (trade with Boston), G Ondrej Pavelec (retirement)
[Related: Rangers Depth Chart From Roster Resource]
Player To Watch: F Vladislav Namestnikov – It was a tale of two seasons for Namestnikov last year.  He got off to a strong start with Tampa Bay and spent some time on their front line.  It was looking as if he was finally going to establish himself as a legitimate top-six forward and he was positioning himself for a nice long-term deal in the summer.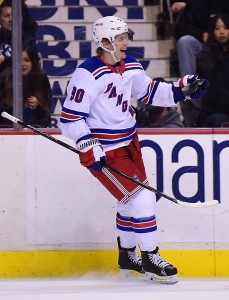 And then he got traded to New York where that momentum went in the completely opposite direction.  He struggled considerably with his new team and his production plummeted as a result; his 0.21 point-per-game average with the Rangers (in 19 games) was lower than any of his averages with the Lightning.  Instead of securing that long-term pact, Namestnikov wound up having to settle for a second bridge contract.
How will the 25-year-old fare in his first full season in New York?  If he can show that the dip was merely a blip and not a sign of things to come, he can quickly rebuild his value and could very become enticing to other teams around the league as the Rangers continue their rebuild.  If his struggles continue though, he could be dropped down the lineup fairly quickly which will certainly hurt his value around the rest of the NHL and limit his potential for a raise when he hits unrestricted free agency in 2020.  Needless to say, this is a pivotal year for Namestnikov.
Key Storyline: The youth movement appears to be in full effect for New York based on the moves they made towards the trade deadline last season and their inactivity this summer.  As a result, some spots appear to be open for some of their more promising youngsters to push for a full-time spot.  However, there will still be some on the outside looking in.
How will those players be integrated into the lineup?  Are 2017 first rounders Filip Chytil and Lias Andersson going to land top-nine spots right away?  If not, would they be better served off getting top minutes in the minors?  They face a similar question with young netminder Alexander Georgiev.  He's capable of being the backup to Henrik Lundqvist but with his waiver exemption, he may be better served spending time in the minors where he could see more game action.
They also have some decisions to make on their back end.  Neal Pionk had a big impact after being a late-season recall while Rob O'Gara also fared well.  Tony DeAngelo is only 22 but already is waiver-eligible so he will likely make the roster by default.  Can they find room for the others to play a regular role or will one (or both) of O'Gara and Pionk find themselves back with AHL Hartford?
Although GM Jeff Gorton freed up some roster space through his dealings last season, they're still facing a situation where some will be starting in the minors.  Accordingly, even though the youth movement will be in effect to start the season, it wouldn't be surprising if more veterans are moved out leading up to the deadline once again.
Overall Outlook: By punting on last season the way they did when they were still technically in the playoff mix, the Rangers are clearly prepared for some short-term pain and that will be the case in 2018-19.  They have enough talent to be competitive most nights but they'll still be among the lower teams in the Metropolitan Division this season.
Photo courtesy of USA Today Sports Images.