With the NHL season now less than a week away, we continue our look at what each team has done this summer and what to watch for in the year to come. Next up is a look at the Edmonton Oilers.
Last Season: 36-40-6 record (78 points), sixth in the Pacific Division (missed the playoffs)
Remaining Cap Space: $1.48MM per CapFriendly
Key Additions: F Kyle Brodziak (free agent, St. Louis), D Jakub Jerabek (free agent, Washington), G Mikko Koskinen (free agent, St. Petersburg, KHL), F Tobias Rieder (free agent, Los Angeles)
Key Subtractions: D/F Yohann Auvitu (free agent, Sochi, KHL), G Laurent Brossoit (free agent, Winnipeg), F Mike Cammalleri (free agent, unsigned), D Eric Gryba (buyout, New Jersey), F Iiro Pakarinen (free agent, Magnitogorsk, KHL)
[Related: Oilers Depth Chart From Roster Resource]
Player To Watch: F Milan Lucic – To put it lightly, Lucic's performance last season was well below expectations.  After a respectable 23-goal and 50-point campaign in his first year with the team, those dropped to 10 and 34, respectively.  That's not the type of production they were expecting from someone that's signed for $6MM for another half a decade.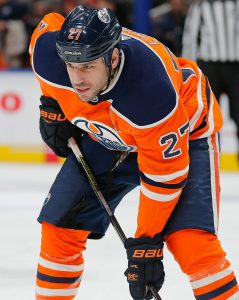 This contract also played a significant role in limiting their ability to add to the lineup this offseason.  They didn't want to pay to move the 30-year-old and considering the year he just had, they probably would have had to cough up a notable premium so giving him another chance certainly isn't the worst idea in the world.
Early indications are that Lucic is in better shape and not as slow as he was last season which will come in handy given Edmonton's up-tempo system.  They're certainly hopeful that he will be able to rebound and considering how limited they were over the offseason, Edmonton is going to be counting on Lucic to be a lot more productive in 2018-19 to provide them with some important secondary scoring.  If he provides a repeat of last year though, questions about his future with the team are only going to intensify.
Key Storyline: Defense was an issue for the Oilers last season as they ranked 25th in goals allowed.  Largely due to their cap situation, GM Peter Chiarelli opted to keep their defense corps intact, hoping that full seasons from Oscar Klefbom, Adam Larsson, and Andrej Sekera would make things better.  That strategy made sense but then Sekera tore his Achilles tendon in training in August, meaning that he's once again out for the long haul.
With there being limited options left in free agency, Edmonton locked up Jerabek while giving Jason Garrison a tryout deal.  They also may consider starting off first-round pick Evan Bouchard in the NHL but none of these players will be able to log the type of minutes that Sekera can when healthy.
At some point, the Oilers are going to have to make a move.  With Sekera being eligible to start the year on LTIR, it wouldn't be surprising to see them swing a trade early on.  If not, they'll have to hope that they can outscore their in-zone struggles until either Sekera returns (which is in question) or when they can find a trade partner to shore up their defensive unit.  The belief is that missing the playoffs won't be an option if Chiarelli wants to keep his job.  Accordingly, expect him to be aggressive trying to get help for their back end.
Overall Outlook: While Edmonton is returning basically the same roster as last year, there is cause for optimism.  Cam Talbot is expected to rebound from a down season while they should be able to get some more secondary scoring to help support Connor McDavid.  The postseason isn't a guarantee given how tough the Pacific is shaping up to be but after being an afterthought last year, they'll be right in the mix this season.
Photo courtesy of USA Today Sports Images.