Navigating the Salary Cap is probably one of the more important tasks for any general manager to have. Teams that can avert total cap chaos by walking the tightrope of inking players to deals that match their value (or compensate for future value without breaking the bank) remain successful. Those that don't see struggles and front office changes.
PHR will look at every NHL team and give a thorough look at their cap situation heading into the 2018-19 season. This will focus more on those players who are integral parts of the roster versus those who may find themselves shuttling between the AHL and NHL. All cap figures are courtesy of CapFriendly.
Current Cap Hit: $61,879,997 (under the $79.5MM Upper Limit)
Entry-Level Contracts
F Sebastian Aho (one year remaining, $925K)
D Haydn Fleury (one year remaining, $863K)
F Martin Necas (three years remaining, $894K)
F Andrei Svechnikov (three years remaining, $925K)
Potential Bonuses
Aho: $850K
Fleury: $850K
Necas: $538K
Svechnikov: $2.6MM
Total: $4.838MM
Aho very quietly led the Hurricanes in scoring last season with 65 points (29-36-65) in 78 games.  He's poised to be on the top line once again next season and if he picks up where he left off, he'll be looking at a significantly more expensive long-term deal next summer around the $6MM-$7MM range.  Fleury spent the bulk of last season with the Hurricanes but with their extra depth on the back end, it wouldn't be surprising if he was sent to the minors at times to get some extra work in.  With that in mind, he's a strong candidate for a bridge deal next summer.
Svechnikov, the second-overall pick back in June, is expected to play an important role right away, especially after they dealt winger Jeff Skinner to Buffalo for a package of future assets.  A top-six spot isn't out of the question which should put him in line to at least hit some of his Schedule B bonuses.  Necas actually made the big club out of training camp last year but was quickly sent back to the Czech league.  He's likely to fill the vacancy opened up by Derek Ryan's signing in Calgary.  If he's in the bottom-six, he probably won't hit most of his bonuses but if he moves into a top-six role, that could certainly change.
One Year Remaining, Non-Entry-Level
F Phillip Di Giuseppe ($750K, RFA)
F Micheal Ferland ($1.75MM, UFA)
F Jordan Martinook ($1.8MM, UFA)
F Brock McGinn ($888K, RFA)
G Petr Mrazek ($1.5MM, UFA)
F Teuvo Teravainen ($2.86MM, RFA)
F Justin Williams ($4.5MM, UFA)
Teravainen, the 'prize' that the Hurricanes received for taking on Bryan Bickell's contract from Chicago two years ago, really blossomed into a top-line talent last season.  He certainly has outperformed his bridge contract already and will be pegged to more than double his current AAV on his next deal.  Williams, who is their second-highest-paid forward, had a nice year in his return to Carolina with 51 points.  He'll turn 37 right before the season starts and it will be interesting to see if he can repeat those numbers.  If he shows signs of decline, it will have a big impact on his next deal.  Ferland took advantage of the opportunity to play in the top-six with Calgary last year as he set career highs across the board offensively.  Those opportunities probably won't present themselves with the Hurricanes which will hurt his value on the open market.  Despite that, he could still push to double his cap hit with a solid season.
Mrazek had a rough year in 2017-18 split between Detroit and Philadelphia and he will be looking to rebuild his value.  Given the questions surrounding their starter, the opportunity will certainly be there for Mrazek to do well and look for a longer-term deal next summer.  If not, he could join the list of backups that seem to bounce around several organizations rather quickly.  Martinook was added during the playoffs in what was basically a move to save a little bit of money.  He'll likely suit up on their fourth line and could very well be flanked by McGinn and Di Giuseppe.  McGinn is coming off a 16-goal, 30-point season and another year like that could push him into the $2MM per year range while Di Giuseppe will be looking to lock down a regular role next season.
Two Years Remaining
D Justin Faulk ($4.83MM, UFA)
D Trevor van Riemsdyk ($2.3MM, UFA)
F Valentin Zykov ($675K, RFA)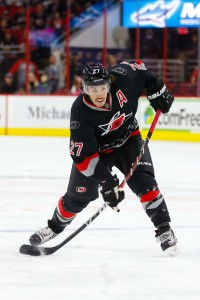 Faulk is coming off of a down year by his standards.  After averaging 16 goals over the previous three years, he tallied just six in 2017-18 which has certainly contributed to the significant increase in trade speculation.  With their current roster construction, he projects to be on the third pairing and while that's a very nice luxury to have, that's also not the best use of an asset like that, especially when there appears to be a mandate to keep payroll low for the time being.  If the right deal doesn't present itself then Faulk will start the season in a Carolina uniform but it certainly feels like a question of when, not if, a trade eventually gets done.
The player to really benefit from the expected move is van Riemsdyk who either will have to play his off-side as things stand or serve as the extra defender to start the season.  Neither of those are particularly ideal scenarios as the Hurricanes didn't more than double his previous deal to have him in a different spot than he was last year.  As for Zykov, he's now waiver-eligible and will be trying to lock down a full-time spot.  He showed some promise in limited action last year and could push for a top-nine spot quickly.
Three Years Remaining
G Scott Darling ($4.15MM, UFA)
D Dougie Hamilton ($5.75MM, UFA)
Darling's first season as a starter did not go well at all.  He struggled mightily and wound up losing starts to Cam Ward fairly quickly.  They're counting on him to rebound but if he doesn't, this is going to be a particularly difficult contract to move.
Hamilton was the centerpiece of their big draft-day deal with the Flames.  He has been a consistent point producer over the past four years and also showed last season that he could handle a larger workload than he was previously accustomed to.  They gave up quite a bit to get him so expectations will certainly be high.
Four Or More Years Remaining
D Calvin de Haan ($4.65MM through 2021-22)
D Brett Pesce ($4.025MM through 2023-24)
F Victor Rask ($4MM through 2021-22)
D Jaccob Slavin ($5.3MM through 2024-25)
F Jordan Staal ($6MM through 2022-23)
Gone are the days when Carolina's back end was very underpaid.  Slavin and Pesce both signed long-term extensions last summer and gives them a shutdown pairing locked up for the long-haul.  After being relative unknowns the last couple of years, that's no longer going to be the case with these deals.  Despite the certainty in having that duo together, the team surprisingly went out and added another defensive blueliner in de Haan who should add some stability to their second pairing while taking Noah Hanifin's old spot after he was dealt to Calgary in the Hamilton trade.
Staal is now halfway through his ten-year deal and while he hasn't been able to truly become a focal point of their attack, his two-way game and faceoff prowess still make him a legitimate top-six center.  As for Rask, he posted the lowest point total of his four-year career last season and had been discussed in trade talks over the summer.  He will likely slot in as a middle-six forward next season and if he can get closer to the 40-point mark again, the Hurricanes should be able to land a decent return if they do eventually decide to move him.
Buyouts
F Alexander Semin ($2.33MM through 2020-21)
Retained Salary Transactions
F Marcus Kruger ($308K in 2018-19)
Still To Sign
None
Best Value: Teravainen
Worst Value: Darling
(Excluding entry-level contracts)
Looking Ahead
As things stand, Carolina is near the bottom in payroll so they don't have to worry about salary cap space anytime soon.  Interestingly enough, this approach has allowed them to spend more on their defense than their forward group, something that isn't the case for any other team in the league.
If they intend to keep this core together long-term though, that will change soon.  Aho and Teravainen are both in line for significant raises next summer that could add upwards of $10MM to their salary cap.  That's still going to have them well below the Upper Limit but instead of being a team that's going to be near the bottom in spending, they'll soon be closer to the middle.  Despite that, if new owner Thomas Dundon greenlights a higher payroll in the years to come, the Hurricanes will be well-positioned to try to add to their core group.
Photo courtesy of USA Today Sports Images.