Kris Versteeg has been a quietly productive secondary scorer in recent years but has had difficulty securing contracts on the open market for the most part.  That happens to be the case again this time around as more than a month into free agency, he's still looking for a deal.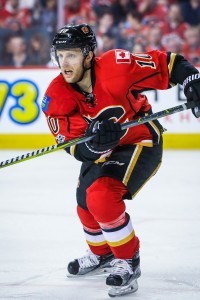 Interestingly enough, last summer was the lone time he was able to sign early, inking an extension to stay with Calgary.  The one-year, $1.75MM deal seemed to make plenty of sense as he was coming off a season that saw him produce 15 goals and 22 assists in just 69 games in 2016-17.
Unfortunately for Versteeg and the Flames, last season didn't go quite as swimmingly.  He picked up a respectable eight points through the first 22 games before suffering a hip injury.  He underwent surgery which kept him out of the lineup until mid-March.  After that, he got into two games and then was sat down for the remainder of the year as the hip problems continued.
When healthy, Versteeg can help add some production from the middle six and he has been an effective player on the man advantage quite recently.  However, questions about his health certainly isn't helping his cause this offseason.
Potential Suitors
There are a few scenarios that make sense for Versteeg.  A contending team that's tight to the salary cap may have interest in him as extra depth or injury insurance.  It also helps that he's eligible for a one-year deal with performance bonuses as he spent 104 days on IR last season and has over 400 games of NHL experience.  Rebuilding teams may also have interest in him as a buffer player to allow a prospect some more time to develop in the minors before trying to flip Versteeg closer to the trade deadline.
In the first group, the Penguins, Lightning, and Capitals fit as teams expected to contend that have limited cap space.  Pittsburgh's depth is at center and it's likely that at least one of their bottom-six options will go to the wing so they may not be a great fit.  Tampa and Washington have several cheap forwards rounding out their roster and a healthy Versteeg could represent an upgrade. As for rebuilding teams that could use him early and flip him later, the Senators and Rangers come to mind if they want some insurance for one of their youngsters (or even simply want some competition in training camp).
Projected Contract
Versteeg was ranked 47th on our Top 50 UFA list with a projected one-year, $1MM contract.  There's still a good chance he gets a deal around that mark although he may have to take some of that in the form of performance bonuses, likely games played related.  A training camp PTO could be a reasonable outcome as well as teams may want to wait until they have a better idea if he has fully recovered from his hip troubles.
Photo courtesy of USA Today Sports Images.