Just over a month ago here on PHR we ran an article detailing the speculation and rumor that was bound to start surrounding Tyler Seguin as the year approached. The superstar center is heading into the final season of his current contract with the Dallas Stars and is scheduled to be an unrestricted free agent on July 1, 2019. Like John Tavares last year, Seguin is a franchise-changing talent that could completely alter the free agent market if he decides to see what is available, and will be a story closely followed by the hockey world all season long. That interest crept to the surface today, when Nick Kypreos of Sportsnet tweeted that contract talks between the Stars and Seguin are "at a standstill and have been for quite some time."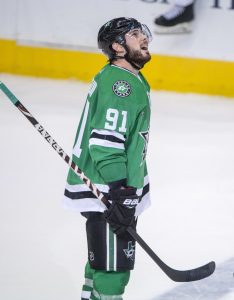 Kypreos compared the situation directly to the Tavares one, and that Seguin wants to sign a long-term deal, but speculation will surely follow the tweet. Even if the two sides haven't spoken about an extension in some time, there is no reason to believe that means they won't circle back in the near future and try to work something out. The team does have plenty of cap space moving forward as only Jamie Benn ($9.5MM) and Alexander Radulov ($6.25MM) carry real bank-breaking cap hits. John Klingberg, the team's Norris-caliber defenseman is signed for four more seasons at just a $4.25MM cap hit while most of the rest of the roster are on short-term deals.
Interestingly though Kypreos also brought up the ongoing Erik Karlsson situation, and intimated that the team is still trying to acquire the Ottawa Senators captain. Dallas has been connected to Karlsson in the past, but were hesitant to include top prospect Miro Heiskanen in any trade. It seems likely that Karlsson will be traded to a team that has plans for a contract extension of his own, something that would certainly make fitting in Seguin more difficult. The Senators star is expected to be looking for similar terms to Drew Doughty's eight-year, $88MM extension.
Whether the Stars are involved with Karlsson talks or not, this sort of report is sure to become a near-daily occurrence until a decision is made on Seguin. If the team believes he might walk in free agency they could decide to trade him at some point, given the recent example of Tavares signing in Toronto without any compensation for the Islanders. That is months away from even being an option though, given that there hasn't been any hint of unhappiness from the Seguin camp.
Photo courtesy of USA Today Sports Images