The offseason has been busy for the Tampa Bay Lightning, despite never completing a rumored Erik Karlsson deal. The team has already re-signed restricted free agent J.T. Miller to a long-term deal and negotiated huge extensions for Ryan McDonagh and Nikita Kucherov. The team has no arbitration cases pending and no restricted free agents threatening a holdout, but the work is far from over for GM Steve Yzerman and the rest of the front office.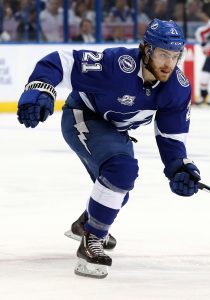 Even outside of trade talks, Yzerman and company must be working through potential contract extensions for several other players on the roster. Brayden Point is the obvious candidate, after showing in his first two NHL seasons that he should be considered among the very best centers in the league despite his late draft status and diminutive size. Point is a workhorse in the defensive zone and should challenge for Selke trophies over the next few years as a shutdown option. He also added 32 goals and 66 points this season, and then followed that performance with a nearly point-per-game pace in the playoffs (16P in 17GP). In the final year of his entry-level contract, it will be interesting to see if the Lightning go the bridge deal route as they did with Kucherov, or immediately sign Point to a long-term deal.
On defense the team will have to make a decision at some point regarding Anton Stralman, who continues to be one of the league's most underrated players and is heading into the final year of his current deal. At 31, Stralman likely still has a few productive years ahead of him as a mistake-free top-four defenseman and could fetch a multi-year contract on the open market. A right-handed option, plenty of teams would be thrilled to add a player capable of logging more than 20 minutes a night on a regular basis. Stralman might just be out of the question though for the Lightning after inking McDonagh to his $6.75MM cap hit, given that the team will have to extend Mikhail Sergachev and Andrei Vasilevskiy at some point down the road as well. While Dan Girardi and Braydon Coburn both come off the books along with Stralman, there might not be enough money to go around.
That lack of finances could also be thanks to the final big extension candidate, 26-year old Yanni Gourde. Gourde was one of the very best bargains in the league last season, scoring 64 points as a rookie in the first season of a two-year $2MM (total) contract. After several good seasons in the minor leagues the Lightning gave him a chance to play consistent minutes in the NHL and he rewarded them with an incredible year, leading the team with a whopping +34 rating. While Point is still young enough to consider a bridge deal that will keep him a restricted free agent in a few seasons, Gourde will be an unrestricted free agent next summer without an extension. The undrafted winger would put himself among the very best options available with another season like 2017-18, and will force the Lightning into an incredibly tough decision. The team has been doing a wonderful job of managing the cap so far, but a Gourde contract would be 100% UFA seasons and likely fairly expensive even before this year takes place. Afterwards, he might just be out of their price range.
These players are all extension candidates because of their excellent play for Tampa Bay, and they make the Lightning a very interesting team to watch this season. Even if the team is in a solid playoff position and looking like the Stanley Cup contender many believe them to be, several players on their roster may be available in trade. Whether that is players like Gourde and Stralman who are scheduled for unrestricted free agency or others like Alex Killorn and Tyler Johnson who could be flipped to free up space, there is so much talent on Tampa Bay that someone might need to go.
One last option for the team to free up some space would be to trade Ryan Callahan and his $5.8MM cap hit, which was rumored to be discussed when the Karlsson talks were heating up. Callahan underwent another shoulder surgery at the end of May, and is nowhere near the player he once was. Though his leadership and experience is valued in the Tampa Bay locker room, his cap hit might force them to move on from another more talented player. If Yzerman is known for anything as a GM it's avoiding giving up excess value, meaning if Callahan—who it should be noted now only has a 15-team no-trade clause—is the only way out of this issue he won't wait to pull the trigger. Regardless of what happens, the Lightning find themselves just starting a very busy season and won't be sitting on their hands for very long.