The Detroit Red Wings have re-signed a key part of their future, inking Anthony Mantha to a two-year contract. Mantha was a restricted free agent this summer but was ineligible for salary arbitration. Ansar Khan of MLive reports that the deal will carry a $3.3MM cap hit.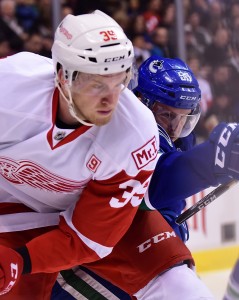 The 23-year old Mantha will still be a restricted free agent at the end of the contract, making this an affordable bridge deal for the Red Wings as they try to turn around their salary structure. The team has put themselves in a bad financial situation with long-term contracts to underwhelming players like Justin Abdelkader and Danny DeKeyser, and are in a situation where they likely have to move out another deal or once again use the cap space created by designating Johan Franzen as a long-term injured reserve player. With Dylan Larkin still to sign, the Red Wings have just under $3MM in cap space—though again, Franzen can help clear that up and the team is allowed to go up to 10% over the cap ceiling during the offseason.
A long-term deal for Mantha seems inevitable down the road. The 2013 first-round pick showed off his offensive chops last season with a 24-goal, 48-point campaign, and is just brushing the surface of how dominant he can be as a power forward in the NHL. His game still doesn't consistently use his size and reach to its full potential, but there are more and more nights that he has shown that level is coming. If it does emerge in the next two seasons the Red Wings will need to pay a hefty premium for his services on the next contract, but that's something they're willing to risk to avoid the predicament they would be in by signing him long-term right now.
For Mantha, this is the best of both worlds. A $3.3MM cap hit represents a huge raise from his entry-level salary, and sets him up for a big negotiation next summer. After July 1st 2019, the Red Wings will be able to work out a long-term extension and buy out several free agent years. Seeing as Mantha will likely get prime powerplay time and hit the ice with Detroit's best players for the foreseeable future, it's hard to imagine him failing to put up respectable numbers. He'll be able to demand a big contract, especially given the huge amount of cap space the Red Wings will have in 2020 when contracts like Mike Green, Jonathan Ericsson and Trevor Daley come off the books.
Photo courtesy of USA Today Sports Images