The Washington Capitals won their first Stanley Cup in franchise history on the back of star goaltender Braden Holtby, but it was actually Philipp Grubauer who started the playoff run for the team after an outstanding regular season. Grubauer has now posted three consecutive excellent seasons as Holtby's backup, and heads into this offseason as a restricted free agent. To that end, GM Brian MacLellan admitted to reporters today including Isabelle Khurshudyan of the Washington Post, that the team will explore trade options to try and give Grubauer his shot at being a starting goaltender elsewhere.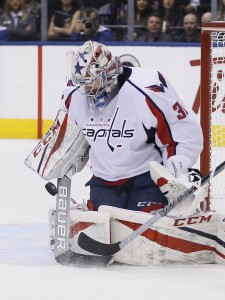 That's big news for teams who are looking to upgrade their goaltending situation this summer. The Carolina Hurricanes, New York Islanders, Philadelphia Flyers all could use an immediate upgrade in net, while the Buffalo Sabres, Ottawa Senators, Detroit Red Wings, Chicago Blackhawks and many others could decide that Grubauer could be the answer on a more long-term basis than their current options. MacLellan will have no shortage of calls on his backup goaltender, but faces a tough negotiation with whoever is on the other end of the line.
Though his comments seem as though MacLellan is doing it out of the goodness of his heart, the Capitals are in a tough cap situation and may not have the resources required to re-sign Grubauer themselves. The restricted free agent will obviously be looking for a healthy raise on his one-year $1.5MM deal signed last summer, and with John Carlson and other to sign this summer the Capitals may not have the salary. Don't think other teams are ignorant of that fact, or of the recent example of Scott Darling who went from star backup to failed starter in the matter of a few months. Darling had posted almost identical numbers as Grubauer through his three years as the main backup to Corey Crawford, only to struggle immensely after being traded and signing a four-year $16MM contract with the Carolina Hurricanes.
Any team acquiring Grubauer has to take into account the fact that he has only started 79 games in his career, and never more than 28 in a single season. The workload of a starter is a much different assignment, and though he clearly has solid talent and is still just 26, there's no guarantee that he'll find success in his next stop. Darling cost the Hurricanes just a third-round pick because he was a pending unrestricted free agent, but Cam Talbot cost the Edmonton Oilers a second and third when he was acquired in 2015 with a single year left on his deal. Grubauer would become an unrestricted free agent after just one more year under contract, meaning he may be in a more similar situation to Talbot this summer.
Still, this presents an opportunity for a team to take a big swing at what could be a huge upgrade in goal. If everything works out for Grubauer and he turns into a perennial .920+ goaltender, a second and third round pick is a small price to pay. If he signs a long-term contract and struggles the way Darling—or even Talbot this season—has, we could be talking about him as another cautionary tale in a year's time.
Photo courtesy of USA Today Sports Images