Every year when a team is eliminated early in the playoffs, speculation starts to pop up about any underperforming stars. Will they return next season? Is the time now to move on? What could they fetch in return? This time around, it's a two-time Stanley Cup Champion coming off a 92-point season that is the target of much trade speculation. Recently, Pittsburgh Post-Gazette columnist Ron Cook penned a piece suggesting that a divide had been formed between Phil Kessel and Penguins head coach Mike Sullivan, one that "torpedoed" the team's chances at a third consecutive Stanley Cup. Today, Tim Benz of the Pittsburgh Tribune-Review pointed us in the direction of radio host Mark Madden of 105.9, who suggests that the Penguins are trying to trade Kessel and that the enigmatic winger is "okay with that."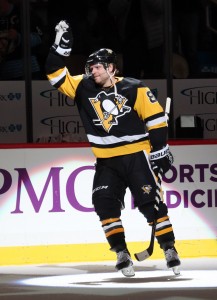 It's not the first time Kessel has been involved in trade speculation in his career. The 30-year old winger was first shipped out of Boston after a breakout 36-goal, 60-point season for the Bruins in 2008-09, only to find himself traded once again by the Toronto Maple Leafs six years later. The situation in Toronto had deteriorated to a point where they needed a reset on the ice and in the dressing room, and Pittsburgh was happy to take him off their hands—Toronto even retained some of the salary on his expensive, long-term deal.
Kessel is coming off the best season of his career with 34 goals and 92 points, but was able to muster just one goal in the playoffs for the Penguins (though he added eight assists in 12 games). If GM Jim Rutherford were to trade him away, it would be a stark indictment of all the success this group has had the last few seasons. Kessel especially flourished this season, finishing three points ahead of Sidney Crosby and just six behind Evgeni Malkin for the team lead.
That big-money contract that Kessel signed in Toronto still has four years remaining on it, with the Penguins carrying just a $6.8MM cap hit after Toronto's retained portion. He also holds a modified no-trade clause that would allow him to block trades to all but eight teams, though, if Madden is correct, perhaps he'd waive the clause to find his way out of town.
At this point in the season all the speculation regarding star players should be taken with a grain of salt. If, however, Kessel does enter the trade market there would be no shortage of teams interested. The Penguins do still have a cap crunch going forward, with several restricted free agents needing contracts with little cap room to spend. Trading Kessel would certainly open up some room, and he would likely generate a big return. Usually big trades like this don't happen until the entry draft, meaning even after the upcoming Stanley Cup Finals we likely will have to wait a bit to see if there is anything to these trade rumors. If Pittsburgh really is considering it, Kessel could quickly become the offseason's most intriguing story.
Photo courtesy of USA Today Sports Images