While the playoffs are ongoing, many teams have already started their offseason planning.  What storylines lie ahead around the league?  Our Offseason Keys series continues with a look at the Carolina Hurricanes.
It has already been a busy offseason in Carolina.  They've made changes both behind the bench (Rod Brind'Amour replacing Bill Peters) and at GM (Don Waddell replacing Ron Francis) and even have made a trade with the acquisition of Jordan Martinook from the Coyotes.  Despite all of that, they're still in for a busy summer; here are some keys to making it a successful one.
New Deals For RFAs
While the Hurricanes were active in locking up two key members of their back end a year early with the extensions handed out to defensemen Jaccob Slavin and Brett Pesce, there is still one more to lock up in Noah Hanifin.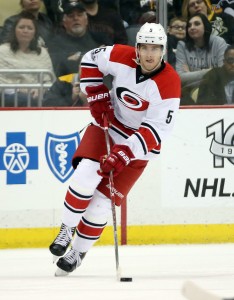 The 21-year-old is coming off of his best season, one that saw him post career highs in goals (10), points (32), and average time on ice (18:52) which will certainly help in negotiations.  He also was named to the All-Star Game for the first time in his career.  While he hasn't become the top-pairing player that Carolina envisioned when they made him the fifth overall pick in 2015 yet, he appears to be well on his way towards being an impact blueliner for years to come.  Both Slavin and Pesce surpassed the $4MM mark in their deals (Slavin checks in at $5.3MM) and a long-term pact for Hanifin would undoubtedly check in past that amount as well.  Assuming that happens, that means that Carolina will have four defenders over that price point (Justin Faulk being the other) which would be a drastic increase in spending for a group that had a combined cap hit of just under $9MM this season.
Elias Lindholm is another intriguing restricted free agent that they will need to make a decision on.  His bridge deal has come to an end and his numbers aren't that much different compared to what they were at the completion of his entry-level deal.  He's part of their core but it appears he will be more of a role player than a key, impact one.  Lindholm is only 23 but is just two years away from UFA eligibility so another short-term pact would come with some risk.
Goalie Upgrade
Around this time last year, Carolina struck early on the goalie market, acquiring the negotiating rights to Scott Darling from Chicago and they wasted little time signing him to a four-year, $16.6MM contract.  In doing so, they secured their goalie of the future, or so they thought.
2017-18 was not a pretty season for Darling whose first go-round as a starter is one he'd like to forget.  He struggled out of the gate and wound up ceding a lot of playing time to Cam Ward and at the end, his numbers (3.18 GAA and a .888 SV%) were both well below the league average.  Meanwhile, Ward is now 34 and hasn't posted a save percentage above .910 for six seasons.  Suffice it to say, he's not a long-term solution either.
It appears that Waddell has reached a similar conclusion as he stated earlier this week that the team can't bring back the same goalie tandem.  With Darling being tough to deal at this point, that would appear to signal that Ward is on the way out.  While Alex Nedeljkovic is coming off of a nice season at the minor league level, he's not going to come in and make a big impact right away either.
Accordingly, it looks like they will be looking outside the organization to fill that second spot.  Given how Darling struggled, it stands to reason that they will be looking to find a starter or at least some with some experience in that role.  The free agent market has some platoon options but no clear-cut starters so if they're looking to bring an undisputed number one in, they may have to go the trade route to do so.
Determine The Shakeup
Carolina's core has been intact for a while now with Francis preferring to build things up slowly.  With Thomas Dundon's ownership, that's widely expected to change.  The question is, who will the casualties be?
Winger Jeff Skinner is one year away from unrestricted free agency and is coming off of a bit of a down season as he failed to hit the 50-point mark for the first time in three seasons.  Despite that, he has been a fairly consistent goal scorer and there would be no shortage of suitors if he was to be made available.
Meanwhile, assuming Hanifin is locked up long-term, that could call into question Faulk's future with the team.  He also had a down season in 2017-18 but has a long track record of success and he carries a cap hit of just over $4.8MM which is decent value for a legitimate top-four defender.  There would undoubtedly be plenty of interest if he hit the trade block as well.
Of course, it's certainly possible that a different core player or two get moved and these two stick around.  However, regardless of who goes, it appears that even more changes are coming in Carolina and with most of the moves so far coming off the ice, it's pretty much a guarantee that the next changes will be on it instead.
Photo courtesy of USA Today Sports Images.