Many have speculated on the future of Oliver Ekman-Larsson, who is scheduled to become an unrestricted free agent in the summer of 2019. Many pointed to the struggles of the Arizona Coyotes as a reason why the superstar defenseman would want to leave in free agency, though he has maintained all along that he loves the city and would stay if possible. Today, that possibility became a little more clear.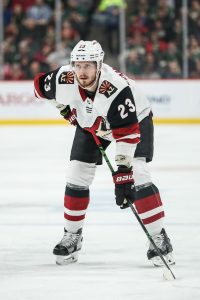 Craig Morgan of AZ Sports is reporting that the Coyotes are discussing an eight-year extension with Ekman-Larsson, a deal that he would be eligible to sign as early as July 1st. The contract would carry an average annual value of "slightly above $8MM," which would be a raise on his current $5.5MM cap hit (though he is set to earn $7MM in salary next season).
One of the things that makes Ekman-Larsson such an attractive potential free agent is his youth, given that he will only turn 27 this summer. That means an eight-year deal only takes him to his mid-thirties, an age where he'll hopefully still be effective. The fact that other teams could only offer him seven years is likely what has the defenseman interested, along with maintaining his role as the face of the franchise and helping the next wave of Coyotes prospects reach new heights.
Last summer, the team brought in several pieces that were seen as attempts to retain Ekman-Larsson. Niklas Hjalmarsson, his good friend and Swedish national team partner was acquired from the Chicago Blackhawks, while Ekman-Larsson's younger brother Kevin was added to the Tucson Roadrunners organization.
Though there has been a lot of disappointment during his time in Arizona, there are signs that might be coming to an end. Clayton Keller broke out as a rookie and recorded 65 points, while other young players like Max Domi and Christian Dvorak put up respectable campaigns. Jakob Chychrun showed off his work ethic returning from injury and should be a big part of the defense corps for many years, while Dylan Strome is ready to explode onto the scene.
The Coyotes also hold the fifth-overall pick and will get to add another blue chip prospect to the mix this season, perhaps even one that will make an impact alongside Ekman-Larsson on the blue line in the years to come. All told, it doesn't look as bleak in the desert as it may have a year ago.
Interestingly, there's something to the idea that Ekman-Larsson could secure a substantially higher salary should he wait for the summer of 2019. Though teams can only offer him a seven-year deal, it's not out of the question to think he might be able to secure an average annual value closer to $10MM. While that seems expensive given that there are only two defensemen—P.K. Subban and Brent Burns—who currently carry $8MM+ cap hits, that number will likely increase substantially in the next few years as the salary cap continues to increase. Drew Doughty and Erik Karlsson are both almost certainly going to receive more than $8MM per season when they hit free agency in 2019, and it's not out of the question to think Ryan Ellis or Ryan McDonagh could join them depending on how the market lands and the next year plays out.
For now though it seems like Ekman-Larsson is happy to stay with the only organization he's ever known. We won't be able to hear about the deal officially until the summer months, but it now looks as positive as ever for the Coyotes.
Photo courtesy of USA Today Sports Images