The last few years almost every professional hockey league and tournament has seemed to skew towards younger players. In the NHL, Connor McDavid has led a revolution of young talent that was epitomized perhaps best when Team North America shocked several opponents in the 2016 World Cup. That team would score more goals than anyone but Canada in the preliminary round, and could have perhaps gone further if not for an early injury to Matt Murray.
In Sweden this year, the league was dominated by Vancouver Canucks prospect Elias Pettersson and provided little challenge for potential first-overall pick Rasmus Dahlin. In a league that is notoriously difficult for young players, 19-year old Pettersson scored 56 points in just 44 games—leading the entire league. Other leagues experienced much of the same, like when Finnish forward Eeli Tolvanen tore through the KHL and broke several records for 18-year old scoring.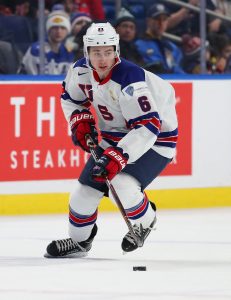 Tolvanen also was one of several players who suited up for both the World Juniors and Olympics this season, and though that was partly because of the lack of NHL involvement, their success at such an early age can't be overlooked. The same can be said for the upcoming World Championships, which will host a small but extremely interesting group of draft-eligible talent.
Though Dahlin and potential second-overall pick Andrei Svechnikov will both miss the tournament, teams will be on the lookout for a few other names that could climb up their draft boards in the coming weeks.
Filip Zadina didn't make the Czech Republic team, but interestingly Martin Kaut did. The 18-year old forward was an impressive talent at the World Juniors earlier this year, and climbed all the way to fourth among International skaters in the final CSS draft rankings. It's a huge honor for the young player, and another chance to impress scouts and push him further up the draft board.
Joining Kaut from the international scouting list will be Martin Fehervary (Slovakia) and Yegor Sharangovich (Belarus), who were 15th and 51st on the final rankings. Fehervary is especially interesting as a defenseman who is not usually noted for his offensive ability. If he's given a regular shift on the blue line against top competition, he could really improve his draft stock by just holding his own. Sharangovich may be more familiar, as he was at the tournament last year for Belarus and played all season in the KHL. The 19-year old wasn't drafted in either of his first two years of eligibility, but is a big-bodied center that is just coming into his own.
Most interestingly though may be Quinn Hughes, the superstar defenseman for the University of Michigan and potential top-5 pick in the upcoming draft. Hughes was named to Team USA and could finish an incredible year by making an impact in the international tournament. If given the chance—which is far from certain—the 18-year old high-flying Hughes could make a case to dethrone one of the top three forwards (Svechnikov, Zadina and Brady Tkachuk) and be the second defenseman off the board. His offensive potential is about as high as you can get, and he's shown the ability to shut down rushes and move the puck quickly out of his own end.
This group of young players likely won't play prominent roles on their respective teams, but they are definitely names to watch if they make it onto the ice. Each is supremely talented and could make an impact at the NHL level down the road. Even though your team might be eliminated from the postseason, there are still plenty of reasons to tune in to some hockey this weekend. The tournament starts this Friday in Denmark.