In this week's excellent (as always) 31 Thoughts column from Sportsnet's Elliotte Friedman, he mentions a statistic that won't be news to anyone who has watched the Edmonton Oilers on a regular basis this season:
Entering Wednesday's games, Edmonton had 127 points from defensemen, 27th in the NHL. (Nashville is best, at 195.) That is something the Oilers will address in the off-season. It's a priority.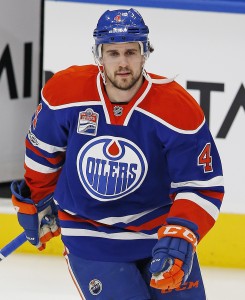 While many will point to Cam Talbot's struggles to repeat his 2016-17 season or the lack of secondary scoring and wing options for Connor McDavid as the team's biggest issues, Friedman has hit on a sometimes overlooked failure of the team. The Oilers defensive group has simply not been good enough at creating offense.
That's not to say they have to jump into rushes with more frequency, or try to go coast-to-coast like a Bobby Orr-redux, but their struggles at exiting the defensive zone with possession have been easy to see this season. That's resulted in so few points, even with an outstanding offensive talent like McDavid driving the offense. So if they need some help in terms of a puck-moving defender, where can they find it?
One option would be free agency, where John Carlson and Mike Green both move the puck exceptionally well. Though Green's future is cloudy at best, Carlson is set to hit the market as the top available defenseman and could earn a seven-year contract with a huge cap hit. The problem for the Oilers isn't that Carlson may not be worth that much, but that they might not be able to afford him. The team has already committed to four defensemen—Andrej Sekera, Adam Larsson, Oscar Klefbom and Kris Russell—for at least another three seasons, at a combined cap hit of almost $18MM. Add in extensions for Darnell Nurse (who currently leads the group with 25 points) and Matt Benning and it's clear there will have to be another sort of change made.
That would have to come through trade if there is to be a real change, and it's not clear exactly who that would be. Some have speculated that the team was showcasing Klefbom this season, and Sekera has struggled through injury this season and not looked the same. Klefbom would certainly still have many suitors if he was shopped around, but it's not so easy with Sekera. The 31-year old defenseman has a full no-movement clause (Russell also holds one of these) until the summer of 2019, meaning he would have to agree to any potential trade. His $5.5MM cap hit is another potential red flag for an acquiring team, who can't be sure of the production he'll bring going forward.
Either way, something must be done in Edmonton after a terribly disappointing season. The fact that they've identified the defense as a problem to be fixed is a good thing, and one that is sure to bring quite a bit of news this summer.
Photo courtesy of USA Today Sports Images