The decision has been made, and both Joel Quenneville and Stan Bowman will return to the Chicago Blackhawks in 2018-19 according to team president John McDonough (via Mark Lazerus of the Chicag0 Sun-Times).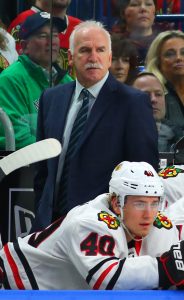 Quenneville has faced rumors over his future all season as the Blackhawks struggled, and he was even included in TSN's latest list of coaches that could be fired on Monday. That speculation can end now that McDonough has made it clear he'll keep the same group in place.
Chicago played spoiler to the St. Louis Blues last night, and now sit 23rd in the league with 76 points on the season. That's easily bad enough to miss the playoffs, but won't give them a huge chance at winning the draft lottery in a few weeks. Still, the Blackhawks haven't picked in the top-15 of the first round in a decade, selecting Kyle Beach 11th-overall a year after taking Patrick Kane with the first-overall pick.
The question is how patient Bowman and Quenneville will be, and how patient can they even afford to be. Kane and Jonathan Toews are no longer young ascending players, and core members of their Stanley Cup teams like Brent Seabrook and Patrick Sharp are a shadow of what they once were. There is a new young wave of players in the form of Nick Schmaltz and Alex DeBrincat, but it's not clear if they'll be enough to crack the championship window back open in the coming years. A return to health for Corey Crawford would help, but there are problems on the Chicago blue line that would cause struggles for any goaltender.
Obviously this isn't a rebuild situation, not with players like Toews and Kane still on monster contracts and still on the right side of 30. With that in mind, it is understandable to stick with the group that has brought you success in recent years, even if this season was a disappointing hiccup. Whether or not they'll be able to navigate another tricky offseason and bring glory back to Chicago is unclear, but they certainly have enough experience to do so.
Photo courtesy of USA Today Sports Images