With the trade deadline fast approaching, we will be taking a closer look at the situation for each team.  Where do they stand, what do they need to do, and what assets do they have to fill those needs?  Next up is a look at the Washington Capitals.
Some thought that this would be the season that Washington would take a bit of a step back after losing several key players in free agency.  They've been tap-dancing around the salary cap for most of the year and have depth issues but they once again find themselves sitting atop the Metropolitan Division with high expectations heading into the deadline.
Record
32-17-6, first in Metropolitan Division
Deadline Status
Buyer
Deadline Cap Space
$1.9MM full-season cap hit, 0/3 retained salary transactions, 44/50 contracts per CapFriendly
Draft Picks
2018: WSH 1st, FLA 2nd, TOR 3rd, WSH 3rd, WSH 4th, WSH 6th, WSH 7th
2019: WSH 1st, WSH 2nd, WSH 3rd, WSH 4th, WSH 5th, WSH 6th, WSH 7th
Trade Chips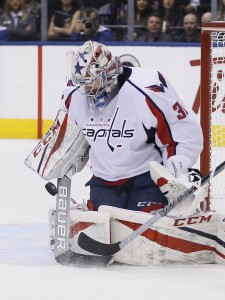 It's not often that teams looking to buy could be moving players off the current roster but the Caps could wind up being an exception.  Goaltender Philipp Grubauer is known to be coveting a larger workload and he appears to be a likely candidate to be on the move by the summer with Washington hoping to sign top prospect Ilya Samsonov for next season.  They would have to acquire a backup in any trade (or have a follow-up move ready) but if a rebuilding team thinks Grubauer could be their starter of the future, the Capitals may be better off moving him now than waiting for the offseason.
Because Washington has limited cap room to work with, it wouldn't be surprising to see them look to try to free up a bit of space with a couple of struggling players.  Defenseman Brooks Orpik is a buyout candidate for the summer but if they're willing to retain on his contract, perhaps there's a move to be made now.  Winger Andre Burakovsky is having a particularly tough year as well and while they're unlikely to simply give up on the 23-year-old, he's the type of player that selling teams may covet in the hopes that a change of scenery may turn his season around.
Five Players To Watch For: RW Riley Barber, LW/RW Andre Burakovsky, LW/RW Brett Connolly, G Philipp Grubauer, C Liam O'Brien
Team Needs
1) Middle-Six Winger: Washington's salary cap situation has really limited their depth up front.  When everyone is healthy, they're in good shape but once injuries strike, that changes quickly.  Finding someone that can slot in on the third line with a full lineup but move into the top-six should be high on the priority list for GM Brian MacLellan.  Given their lack of payroll room, this will probably need to be a rental player.
2) Defensive Depth: While the Capitals would undoubtedly like to add a top-four defender, they will be hard-pressed to do so, especially if they add help up front as well.  Accordingly, they will likely turn to teams shopping depth defenders to hedge against injuries and perhaps give them a different dimension for matchups for the postseason.  Fortunately for them, there projects to be a lot of those types of blueliners available so this should be something that Washington can address without having to pay too high of a price.
Photo courtesy of USA Today Sports Images.