The Capitals have locked up Lars Eller for the long haul as the team announced that they have signed the center to a five-year, $17.5MM contract extension.  The $3.5MM cap hit on this new deal matches his AAV on his current contract.
The contract breaks down as follows, courtesy of team writer Mike Vogel:
2018-19: $4MM salary, $1MM signing bonus
2019-20: $3MM salary, $1MM signing bonus
2020-21: $2.5MM salary
2021-22: $3MM salary
2022-23: $3MM salary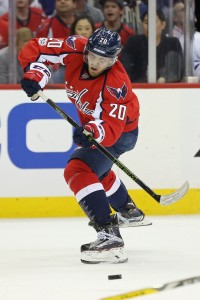 Eller is in his second season with Washington after being acquired from Montreal back at the 2016 NHL Entry Draft for a pair of second-round draft picks.  He has been a mainstay as their third line pivot since then and is currently is on pace for a career year.  He has 11 goals and 17 assists through 53 games; his career high in points was 30 (set with Montreal in 2012-13).
In his career, the 28-year-old has played in 576 games between St. Louis (who drafted him 13th overall in 2007), Montreal, and Washington, tallying 96 goals and 113 assists.  He has been quite consistent over that span, notching at least 25 points in each of the last seven seasons.
As was the case last offseason, Washington appears to be heading towards a summer where they will very little flexibility to work with.  This signing now gives them more than $62MM committed to just 14 players for 2017-18, per CapFriendly.  Even with the salary cap expected to increase for next season, that won't give them a lot of room to work with to try to add to their roster.
However, Eller's extension ensures that the Caps will have their center situation under control for at least the next two seasons as Nicklas Backstrom is signed through 2019-20 while Evgeny Kuznetsov is under contract through 2024-25.  It also takes one of the more prominent middle men off the open market for free agency this summer.  While Eller didn't make the top-20 in our midseason Free Agent Power Rankings series, he did receive an honorable mention.
Photo courtesy of USA Today Sports Images.