The Boston Bruins have started their trade deadline work early, sending Frank Vatrano to the Florida Panthers in exchange for a 2018 third-round pick. This deal will basically replace the third-round pick sent to the New York Rangers in the previous Nick Holden deal, though it will likely be several spots higher.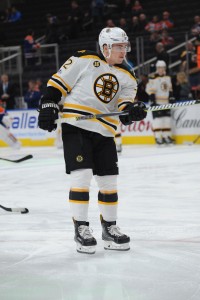 Vatrano, 23, had fallen behind several other options in the Bruins pecking order this season, suiting up for just 25 games. His role had been almost completely eliminated, and his production had fallen off along with it. After putting up 10 goals in just 44 games last season, he had registered just two this year to go along with zero assists. In his last game he played just under five minutes, and suffered a lower-body injury that has kept him out since early February.
For Florida, they're hoping that a change of scenery is enough to spark the elite goal scorer that the minor leagues saw in 2015-16. That year, in his first season of professional hockey, Vatrano scored 36 goals in 36 games for the Providence Bruins to lead the entire AHL despite playing just half a season. That was twice as many as he'd put up for UMass-Amherst the year before, and looks like a bit of a shooting percentage-driven outlier for the young forward. Vatrano shot 19.3% that season in the AHL, a number he hasn't come close to repeating for Boston.
Still, a third-round pick isn't a lot to give up for the chance at adding another talented offensive player in Florida. Vatrano is on the final season of his entry-level contract, but won't have a ton of leverage this offseason to demand a big raise. Though he does have arbitration rights, Florida will likely be able to sign him to a relatively light contract and see if he can find some of that offense for his new club.
By moving Vatrano, Boston has cleared some more cap space for their deadline plans, and can now add players with a full-season cap hit of nearly $2.3MM. Linked to Ryan McDonagh earlier today, the team could still be big players in the next few days as they look to challenge for the Stanley Cup.
Photo courtesy of USA Today Sports Images