The Edmonton Oilers' season hasn't gone as expected. After taking the Anaheim Ducks to Game 7 of the second round last year, the Oilers were expected to be a Stanley Cup contender and steamroll over the Pacific Division with a dynamic offense led by Connor McDavid. Instead, Edmonton has just 118 goals on the season and sits 13th in the Western Conference standings with just 39 points through 43 games.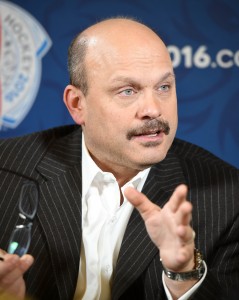 Because of their struggles, head coach Todd McLellan's name has been thrown around as a potential scapegoat, while GM Peter Chiarelli has felt some of that heat himself. Chiarelli said as much when speaking with TSN's Ryan Rishaug today in a long interview that goes in detail on several topics.
Chiarelli once again stated that he would not be firing McLellan this season despite the struggles, and refuses to pin all of the blame on him or his coaching staff. Instead, the GM believes there has been a confluence of issues that have resulted in a poor record and the front office is still working out what exactly has gone wrong. With that, he wouldn't reveal which direction the team will take at the trade deadline but admitted that a decision would have to be made soon.
Rishaug was quick to mention that McDavid's entry-level contract is up after this season, at which point his cap hit will balloon to $12.5MM for the next eight years. With Leon Draisaitl already making $8.5MM this season, the Oilers will have trouble adding much in terms of free agency over the coming years. There simply won't be much money to go around if they're going to continue to lock up their homegrown talent while paying $21MM to their top two offensive talents.
The Oilers do have expiring assets that could be used as bait as the deadline approaches. Patrick Maroon, Mark Letestu and Mike Cammalleri are all unrestricted free agents at the end of the year and could be interesting additions for various clubs around the league. Beyond that, Ryan Strome, the player acquired in exchange for Jordan Eberle in the offseason (a topic that is broached by Rishaug in the interview) is a restricted free agent that could be viewed as another buy-low candidate for a rebuilding team. Strome is due a $3MM qualifying offer this summer and is arbitration eligible, making it possible that Edmonton can't even afford him depending on how they view his value going forward.
Looking forward there is quite a number of unknowns in Edmonton. Cam Talbot is only signed through the 2018-19 season and has seen his play drop off this year, while is a trio of veterans with full no-move clauses and big cap hits. Milan Lucic, Andrei Sekera and Kris Russell are all on deals that take them through at least the 2020-21 season, and combine for a $15.5MM cap hit. Though each brings some value to the team, they can only be relied upon as complimentary players at this point in there careers.
It's unclear which path Chiarelli will take at the deadline, and whether any core pieces will be moved out to try and send the team in a different direction next season. It does seem likely that if there isn't a marked improvement at this point next year, Chiarelli's seat might not just be hot, it might be gone.
Photo courtesy of USA Today Sports Images