With the Oilers on the outside looking in at a playoff spot and the fact that he is a pending unrestricted free agent, Sportsnet's Elliotte Friedman reported on Sportsnet 960 (audio link) that it's highly likely that winger Patrick Maroon is dealt in advance of the February 26th trade deadline.
"I think he's going to get traded.  I don't think there's a doubt that he's going to get traded.  I would be surprised that they're keeping him. I don't see any way that he finishes – I shouldn't say that because there's always a way.  I would say it is extremely, extremely unlikely that he finishes this year in Edmonton."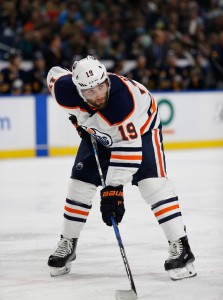 The rugged winger is on pace for another 20-goal season after posting a career-best 27 last year and has shown some chemistry on Edmonton's top line with Connor McDavid.  That type of versatility to play up and down in the lineup will likely be attractive to teams.  The fact that he doesn't shy away from playing physically will also help, knowing that the postseason is a tougher grind than the regular season.
What will perhaps be most appealing to teams is Maroon's contract.  While he carries a cap hit of $2MM, $500K of that is being retained by Anaheim as part of the trade that saw him join Edmonton back at the 2016 deadline.  Most contending teams should be able to work in a prorated $1.5MM cap charge without too much difficulty and the asking price will undoubtedly be lower than what Buffalo is seeking for Evander Kane, the top rental player up front.
While the Oilers have certainly been pleased with what Maroon has been able to provide since being acquired, they're unlikely to have the money to keep him around on a long-term deal with McDavid's new $12.5MM contract kicking in next season and have nearly $61MM committed to just 13 players, per CapFriendly.  As a result, even if they do inch closer to a postseason spot in the weeks to come, the prudent move for the Oilers may still be to trade Maroon now rather than lose a key contributor for nothing in the summer.
Photo courtesy of USA Today Sports Images.