The Nashville Predators have given themselves some cost certainty among their depth defensemen, signing Yannick Weber to a two-year extension worth a total of $1.35MM. Weber was set to hit unrestricted free agency this summer, but will now be with the club through the 2019-20 season. The team also announced a one-year extension for Anthony Bitetto, worth $650K. Bitetto was in the final season of a two-year deal, and would have also been eligible for unrestricted free agency this summer.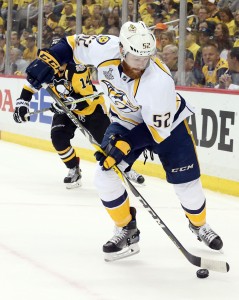 Additionally, a few minutes later, the team announced a two-year deal for Matt Irwin also worth $1.25MM. Irwin was on a one-year deal that was set to expire in the summer, and thus had to wait (like Weber) for January 1st to sign an extension.
Because the Predators have always put a hefty amount of responsibility on their top four, getting depth defensemen locked up for the minimum salary is a key part of their salary structure. Even with P.K. Subban eating a huge chunk of the cap, the team can feel now confident trying to extend Ryan Ellis before he becomes a free agent in the summer of 2019.
Weber, Irwin and Bitetto certainly don't play huge roles on the team, but their presence as the third-pairing or extra man is still valuable. Until the Predators acquired Alexei Emelin to help cover for Ellis' long-term injury, Irwin and Weber were the go-to pairing for around 11-13 minutes a night. The two played in all 22 games in last season's Stanley Cup run, and can be relied upon in at least a limited capacity.
The Predators now have seven defensemen and eleven forwards signed and penciled into the NHL roster for next season, meaning that their remaining ~$12MM (depending on where the cap lands) can be used for landing a big fish on the open market or bringing in more salary in trade. GM David Poile has done a masterful job of retaining the core pieces of his team while adding through trade when necessary, and has built what looks like a sustainable winner at this point. Getting three depth pieces under contract for the league minimum is only the latest example.
Photo courtesy of USA Today Sports Images