The Anaheim Ducks have locked up one of their key contributors, signing Andrew Cogliano to a three-year extension through the 2020-21 season at an annual average salary of $3.25MM. Cogliano has suited up for all 43 games for the Ducks this season, extending his incredible streak to 829 games (his entire career in fact) without missing a single contest. The deal includes no signing bonuses, and gives him both no-trade protection for the rest of this season and a partial no-trade clause for the next three years.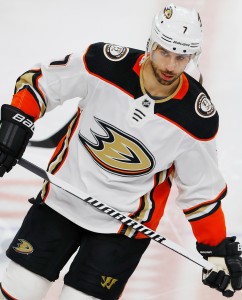 Cogliano, 30, was scheduled to become an unrestricted free agent this summer and could have been a much sought-after player. Though his offensive upside is somewhat limited, he's shown an ability to move up and down a lineup and has long been one of the top penalty killers in the league. Since entering the league in 2007-08, he ranks seventh in the league in shorthanded goals with 17. With the injuries to several key forwards for the Ducks this year, he's actually recorded the second highest average time on ice of his career, and the most since coming over to Anaheim from the Edmonton Oilers in 2011.
Limited to just five goals this season, there is reason to believe that he's been more unlucky than ever. His shooting percentage is at a career-low of 5.3%, despite him being on pace to record the second most shots on goal of his career. While no one will crown him a 30-goal player, an expectation of 12-18 goals and 30-35 points is still realistic going forward. Whether his body will eventually betray him is still to be seen, but you can't get a more consistent player to invest in.
For the Ducks, a $3.25MM cap hit is more than palatable. Cogliano was already earning $3MM this season, and with Kevin Bieksa's contract coming off the books at the end of the season there is more than enough to go around. While the team does need to extend Nick Ritchie and Ondrej Kase, neither should demand a prohibitive cap hit going forward. Brandon Montour will need a new deal, but after just 68 career games so far he certainly could be signed on a smaller bridge deal.
Any problems, if they are to come, would be the summer of 2019 when the Ducks are scheduled to have Jakob Silfverberg (UFA), Adam Henrique (UFA) and John Gibson (RFA) all hitting free agency at the same time. With Corey Perry, Ryan Getzlaf, Ryan Kesler, Patrick Eaves and now Cogliano all in their thirties and signed through at least the 2019-20 season, things might get dicey when trying to fill out the rest of the roster.
Still, with the salary cap going up and Eaves' unclear future coming back from Guillain-Barre Syndrome , Cogliano's contract was almost must-sign for the club. He may have been able to fetch even more on the open market if a few bounces go his way in the second half, and his impact would have been difficult to replace internally. With the 2018 free agent class getting thinner with every extension, it will be interesting to see where the rental market finally lands at the end of next month.
Pierre LeBrun of The Athletic was first with the details of the contract, including salary breakdown and trade protection.
Photo courtesy of USA Today Sports Images