Though much of Elliotte Friedman's latest 31 Thoughts column surrounded the potential trade availability of Ottawa Senators captain Erik Karlsson, he also mentioned the Calgary Flames pursuit of more "edge." Friedman has mentioned this a few times over the last few weeks on Sportsnet, and one can see where he'd get it from. The Flames are presided over by Brian Burke, famous for his love of "truculence" and the like.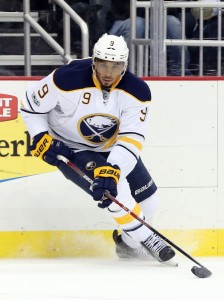 Friedman mentions that he could see the Flames joining "growing group eyeing Buffalo's Evander Kane," which leads to some interesting questions. How many teams are in that group, and just how valuable is Kane on the open market? Friedman reports that teams have been told the Sabres want a return like what Winnipeg received for Andrew Ladd and Arizona pulled in for Martin Hanzal, but if the group of bidders continues to grow how high can it really get?
Kane has points in his last four games and is already at 27 for the year, a 74-point pace that would destroy his previous career-high of 57. He also sits third in the entire league in shots on goal, behind only Alex Ovechkin and Vladimir Tarasenko. Ladd and Hanzal are both very good players, but neither were an in-their-prime offensive weapon like Kane will be this February, when he'll still be just 26-years old.
That's not to say he doesn't come with flaws. The first thing any acquiring team must realize is that he's an unrestricted free agent this summer, and at that young age of 26 could be committed to getting himself a huge payday. As one of the younger players to ever hit the market, Kane would have his choice of several destinations and a long-term, big money deal.
Minnesota and Chicago both knew they wouldn't be re-signing their respective rentals, but still bit the bullet and send packages including first-round picks. That's where a problem may arise for Calgary if they decide to join the bidding. The Flames already dealt away their top two picks in 2018 to acquire Travis Hamonic this summer. They also could lose various 2019 picks depending on some trade conditions, meaning they likely want to hang onto the first-rounder from that year.
That means Calgary would likely have to go a prospect or young player route, which is always a dangerous game when trading for a rental. The Flames do have some excellent defensive prospects like Juuso Valimaki and Adam Fox, but moving either would be a serious decision.
The proverbial ball is in Buffalo's court over the next few months, as they continue to try and up the bidding on any player on their roster not named Jack Eichel in order to turn their franchise around. Kane is the key to all of that, and could end up fetching quite the return. What exactly that return is, will be up to which teams are willing to spend on the pending UFA.
Photo courtesy of USA Today Sports Images