After clearing some room on the roster by dealing Josh Archibald, the Pittsburgh Penguins have now acquired Jamie Oleksiak from the Dallas Stars in exchange for a conditional 2019 fourth-round pick. Pittsburgh had just acquired Minnesota's fourth-round pick from the Arizona Coyotes in the previous deal. Dallas will get whichever pick, Minnesota or Pittsburgh's own, is earlier in the fourth round.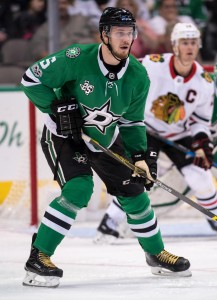 Oleksiak, 24, was a first-round pick by the Stars in 2011 but hasn't quite had the impact expected at the time. The 6'7″ defender has had trouble staying in the lineup for Dallas, even playing forward at times just to get back in game action. At times he can look like the dominating defensive presence the Stars had hoped for, but those moments have been too few and far between for them to give him added responsibility.
In Pittsburgh, Oleksiak will get another chance to impress and prove that he's an NHL defenseman before hitting restricted free agency again this summer. Currently on a one-year deal worth $965K, he'll actually cost the Penguins a little more than Archibald on the year. Interestingly, Oleksiak is another left-handed defenseman for the Penguins, something they're already full of. With Justin Schultz on injured reserve, only Kris Letang and Chad Ruhwedel hold right-handed sticks at the moment, making it unclear where Oleksiak will fit in. Kevin Czuczman has been sent to the minor leagues for the time being.
Still, it is clear that Penguins GM Jim Rutherford has decided at least a minor shakeup is needed for his club. Pittsburgh has been a disappointment this season after back-to-back Stanley Cups, and find themselves out of a playoff spot at the moment. Oleksiak isn't the answer to all of their problems, so expect other moves to eventually come down the pipe for the Penguins, though they may have to wait until after the holiday roster freeze.
Photo courtesy of USA Today Sports Images