The Canadiens are actively shopping winger Max Pacioretty, Sportsnet's Nick Kypreos reports (video link).  He notes that while Montreal may eventually look for a return involving draft picks or prospects, GM Marc Bergevin's priority at this time is to receive a high-end goal scorer in return and adds that this is something that they don't necessarily have to get done before the trade deadline.
Pacioretty has been one of the most consistent goal scorers in the NHL in recent years but is in the midst of the worst slump of his career offensively with just one goal in his last 21 games.  On the season, he has eight goals and 12 assists through 39 games.  Prior to 2017-18, Pacioretty had reached the 30-goal mark in five of the last six seasons with the lockout-shortened 2012-13 campaign being the one he failed to do so (although he scored at that pace).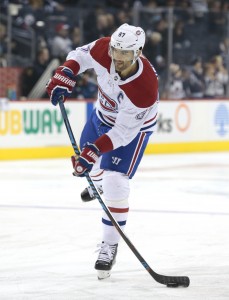 The 29-year-old has one year on his contract remaining after this one with a team-friendly cap hit of $4.5MM and he doesn't have any no-trade protection.
As is often the case with players with term beyond the current year, there won't be as much of a market in-season as there could be in the summer when teams have more payroll flexibility.  However, if the Canadiens are inclined to move their captain sooner than later, there still should be several suitors given the manageable contract and Montreal's current cap space could certainly be used to take extra contracts back to facilitate a move.
Kypreos points out how patient Colorado GM Joe Sakic was when it came to moving Matt Duchene and there certainly are some parallels to this situation.  The two players have a nearly-identical point-per-game average over the course of their careers and many wonder if Pacioretty would benefit from a change of scenery to a less pressure-filled environment.  Pacioretty has actually out-produced Duchene in five of the last six seasons so it's fair to speculate that Bergevin's initial asking price may be a comparable (or slightly greater) return than the Avalanche received for Duchene.
The fact that the Canadiens have put Pacioretty's name in play suggests they may be looking to shake up the roster.  Given that they find themselves eight points out of a Wild Card spot already, they may have to do something sooner than later.  If not, they may soon be shifting the focus from a retooling of the roster to more of a rebuild in the weeks to come.
Photo courtesy of USA Today Sports Images.