Team Sweden released their roster for the upcoming Karjala Cup today, and Craig Button of TSN provided us a snapshot of the list. Remember, this is the tournament where Hockey Canada will send their Olympic tune-up squad and will be a sneak peek of what to expect at Pyeongchang in 2018. If your eyes spot an odd birthday in the mix, you're not crazy. Rasmus Dahlin, born March 13th, 2000 will be heading to the tournament for his country. The 17-year old defenseman is the front-runner to be the first-overall pick in next year's NHL draft, and fans look like they might get an up close viewing of him against international talent over the next few months.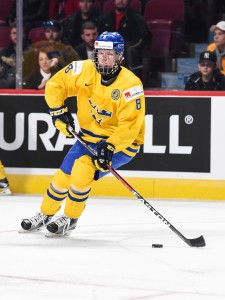 In addition to the Kajala Cup, Dahlin seems like a lock for Team Sweden at the World Junior U20 (though he would actually qualify for the U18 tournament) and could even work his way into a spot at the Olympics. While that still seems like a long-shot, even being in the conversation at this point is ridiculous. Dahlin is seven years the junior of the next youngest Swedish defenseman on the Kajala roster, and has just Linus Soderstrom—a 21-year old goaltender drafted by the New York Islanders—and Rasmus Asplund—a 19-year old forward drafted by the Buffalo Sabres—anywhere close to his age group.
Dahlin is playing for Frolunda in the SHL currently, recording six points in his first 14 games with the professional club. Even at 17, he doesn't look out of place playing against men sometimes twice his age. A dynamic offensive player, who has looked better in his own end and adds some physicality at times, Dahlin is a franchise-changing player that should be considered among the best defensive prospects in several years. While there is a chance he falls out of favor and loses his #1 standing next June—this draft has several incredible prospects at the top—a good showing at international tournaments will only increase his profile.
Button also provides the roster for Team Finland, which has two standout names. Miro Heiskanen and Eeli Tolvanen will both suit up for their country, just a few months after being selected in the first round of the NHL draft. Heiskanen of course went third-overall to the Dallas Stars, while Tolvanen fell all the way to 30th thanks to a late denial of his Boston College application. He eventually went to the Nashville Predators, who are likely quite pleased with their selection at the back end of the round.
Tolvanen has 23 points in 24 games for Jokerit of the KHL, setting all kinds of rookie records in the process. The 18-year old winger has immense offensive potential, and already has experience with the North American game having spent two seasons in the USHL before being drafted. Heiskanen on the other hand is playing for HIFK of the Finnish Ligga (both Jokerit and HIFK are based out of Helsinki) and has recorded eight points in eight games while providing his normal error-less two-way game. Heiskanen and Tolvanen are among the early standouts from the 2017 draft class, despite not playing in North America this season. Both should have long careers ahead of them, and will start to prove it on the international stage at the upcoming tournament.
The Karjala Cup is hosted in Sweden and Finland from November 6th to 12th.