Navigating the Salary Cap is probably one of the more important tasks for any general manager to have. Teams that can avert total cap chaos by walking the tightrope of inking players to deals that match their value (or compensate for future value without breaking the bank) remain successful. Those that don't see struggles and front office changes.
PHR will look at every NHL team and give a thorough look at their cap situation heading into the 2017-18 season. This will focus more on those players who are integral parts of the roster versus those who may find themselves shuttling between the AHL and NHL. All cap figures are courtesy of CapFriendly.
Current Cap Hit: $63,272,262 (under the $75MM Upper Limit)
Entry-Level Contracts
D Chris Bigras (One year remaining, $843K)
F J.T. Compher (Two years remaining, $925K)
F Tyson Jost (Three years remaining, $885K)
D Andrei Mironov (Two years remaining, $925K)
F Mikko Rantanen (Two years remaining, $894K)
Potential Bonuses
Compher: $75K
Jost: $663K
Rantanen: $850K
Total: $1.588MM
Rantanen's first full season was a bumpy one but he still projects as a top forward at the very least for the foreseeable future.  Depending on how he fares in his sophomore campaign, it will be interesting to see if the team ponders signing him to an early extension, particularly with the recent inflation of RFA contracts we've seen this summer.  Jost was lured away from North Dakota late in the season and they didn't do that to turn around and play him in the AHL this year.  They expect he'll be a top-two center before too long and if he gets to that level within the next three years, his second deal will be a significant one.  Compher spent the bulk of last year in the minors and should slide into a regular role for 2017-18.  He's more of a middle-six option and his next contract shouldn't be anywhere as big of a jump as the other two.
With their complete lack of depth on the back end, quite a few rookies will be given the opportunity to play big minutes pretty quickly.  Mironov was signed out of the KHL and has a European Assignment clause in his contract so he figures to get a long look at training camp.  Bigras spent quite a bit of time with Colorado in his rookie season but none last year.  As he gets set to finish his ELC, this will be a critical year for him – can he earn a bigger second deal or will he be looking at a one-year deal at potentially a lower NHL salary (with a higher AHL guarantee)?
One Year Remaining, Non-Entry-Level
G Jonathan Bernier ($2.75MM, UFA)
D Mark Barberio ($750K, UFA)
F Joe Colborne ($2.5MM, UFA)
F Blake Comeau ($2.4MM, UFA)
F Matt Nieto ($1MM, RFA)
F Nail Yakupov ($875K, RFA)
Comeau was one of many to have a rough year but after putting up better than 30 points the past two seasons, he could easily rebound.  If that happens, he should be able to land a contract similar to his current one on the open market next summer.  Colborne had an absolutely disastrous season to the point where he was a frequent scratch.  Barring a notable turnaround, he's setting himself up to be shopping for a PTO at this time next offseason.  Yakupov has failed to live up to his first overall pedigree but the skill is there and he should have the opportunity to secure a more regular role.  If that happens, he'll set himself up for a nicer contract next summer but if not, he could be out of an NHL job entirely.  Nieto should have a regular role in the bottom six but will need to produce more if he wants to garner any sort of raise a year from now.
Barberio joined Colorado via waivers midseason and he wound up with a bigger role than he had ever had before.  Given their lack of depth at that position, that could very well happen again.  If that is the case, Barberio could position himself for a big increase in salary if he can even satisfactorily hold down a top-four role during the season.
Bernier hasn't been able to secure a true number one starting job between the pipes since the Kings dealt him back in 2013.  Instead, he has been in platoons the last couple of years and is likely to be in one again.  If that does indeed happen, a comparable deal to this one would be expected next summer as it's doubtful that a team would be willing to give him a multi-year contract at number one money.
Two Years Remaining
F Sven Andrighetto ($1.4MM, RFA)
F Matt Duchene ($6MM, UFA)
G Semyon Varlamov ($5.9MM, UFA)
F Colin Wilson ($3.937MM, UFA)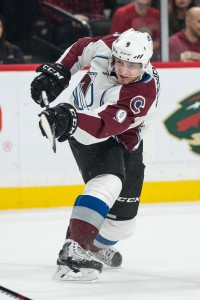 By now, everyone knows all about the trade speculation with Duchene so let's turn the focus away from that.  From a contractual standpoint, Duchene didn't live up to his salary as he put up his lowest production since 2011-12.  If he can get back towards that 55-60 point mark, he'll set himself up to earn a comparable contract to the one he's one now when he hits the open market at the age of 28.  If not, it will be an interesting free agency period for Duchene as he's still young enough to command another long-term pact but if he's more of a 40-45 point player these next couple of years, will a team be willing to give it to him?
Wilson was brought in on the cheap from Nashville this summer and he provides them with some needed depth in their middle six.  However, his play has been hot-and-cold in recent years and if that continues, he'll be hard pressed to find a contract close to $4MM on the open market.  Andrighetto fit in well after joining the team at the trade deadline from Montreal.  With their depth on the wing, he'll have a chance to play a top-six role which will give him the potential to earn a much bigger contract in two years' time.
Colorado's decision to keep Varlamov over Calvin Pickard in expansion was controversial but it's a sign that they still view him as a legitimate starter.  He didn't exactly play like one when healthy last year and if that happens again, he could become a legitimate buyout candidate next summer.
Three Years Remaining
D Tyson Barrie ($5.5MM, UFA)
F Carl Soderberg ($4.75MM, UFA)
Soderberg lived up to his contract in his first year with the Avs, posting 51 points along the way.  This past season, that total plummeted to 14.  He'll be given a chance to restore some value (right now the contract is bad enough that there's pretty much no trade value) but if that doesn't happen, he could also be someone who gets bought out in June.
Barrie has been speculated as someone that could be dealt with the team preferring a more balanced top pairing blueliner.  Though his defensive zone issues are well known, he remains one of the more dangerous offensive threats league-wide from the back end so while his contract is pricey, he is living up to it for the most part.
Four Or More Years Remaining
D Erik Johnson ($6MM through 2022-23)
F Gabriel Landeskog ($5.57MM through 2020-21)
F Nathan MacKinnon ($6.3MM through 2022-23)
MacKinnon has yet to repeat his rookie performance but he has still been a somewhat productive top liner the last couple of years.  He's still just 22 and while he's not a bargain now based on his production, there's still a good chance that will change well before this deal expires.  Landeskog was one of many who underachieved in 2016-17 but with four seasons of 50+ points under his belt already, it's safe to expect that this was an outlier and not a sign of things to come.  With that in mind, his contract is still a team-friendly one.
Johnson, when healthy, is a quality top-pairing blueliner but staying healthy has proven to be somewhat of a challenge in recent years.  He remains a cornerstone part of their defense and is worth the contract when he is in the lineup.
Buyouts
D Francois Beauchemin ($4.5MM in 2017-18)
Retained Salary Transactions
None
Still To Sign
Best Value: Rantanen
Worst Value: Soderberg
Looking Ahead
Colorado projects to be well under the cap again this season by the time they get Zadorov signed and fill out the rest of their roster.  That's likely to be the case for a while yet as even though players like Rantanen will be due major raises before too long, they will have some pricey, underachieving veterans coming off their cap around the same time as well.  They're typically a budget team so the salary cap doesn't project to be any sort of considerable obstacle any time soon unless they get in the market of taking on an injured contract in exchange for some other assets like Arizona has done in recent years.
Photo courtesy of USA Today Sports Images.