According to Elliotte Friedman of Sportsnet, the Josh Anderson saga has come to a head. The unsigned restricted free agent has requested a trade from the Columbus Blue Jackets. This is a big swing in what had thought to have been a regular negotiation up to this point. Though the two sides had been firm in where they stood, requesting a trade likely signals that they don't see a deal being completed anytime soon. That said, both Pierre LeBrun and Aaron Portzline of The Athletic report that GM Jarmo Kekalainen has not received a trade request as of yet.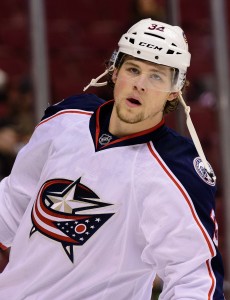 Anderson, 23, is coming off his entry-level contract at the perfect time in his career. The big-bodied forward scored 17 goals last season, and provides a versatile style that can move up and down the lineup. He's made it clear that he would be willing to play in Europe for a year and suit up in the Olympics if he wasn't offered a fair deal, but with cap space available this year and next, it always seemed as though something would get done.
The Blue Jackets for their part have made it clear that they could move on without him. Head coach John Tortorella hinted that Anderson would have to fight for his job when he returned from his holdout, and the team has refused to give in to any contract demands above what they deem reasonable.
All of this is not to say that a trade will be consummated. Last year, we saw Jacob Trouba go through a similar negotiation, requesting a trade out of Winnipeg because of the role he was expected to play. Eventually, Trouba would sign during the season for two years and move into a prominent role. He'll be up for another contract after this season, but is now a key part of the Jets going forward.
Anderson on the other hand doesn't seem to be asking for a bigger role, just respect on a bigger contract. Connor Brown, a similarly-aged player coming off his entry-level deal was given three years and $6.3MM from the Maple Leafs, but that was perhaps a bit of a hometown discount. Brown scored 20 goals in his rookie season, but isn't as physical as Anderson. Sam Bennett received just two years at $1.95MM, even with more experience and draft pedigree than either Anderson or Brown. Bennett is also a center, but had a disappointing season in 2016-17 with only 13 goals.
If the Blue Jackets did examine trading Anderson, it's likely they would find takers from all around the league. Teams are always looking for young depth forwards with upside, which is exactly what he brings. Though he may not be a perennial 20-goal scorer, he could fit into several contending lineups as a relatively inexpensive option on the wing. Columbus, who went out of their way at the expansion draft to protect him from the Vegas Golden Knights, would need to get back substantial value even if he's continuing to hold out. The player has little leverage at this point, unless he wants to play the rest of his career overseas.
Photo courtesy of USA Today Sports Images