The Boston Bruins and David Pastrnak have finally come to terms, signing a six-year $40MM contract. The deal will pay Pastrnak an average of $6.67MM throughout the deal, which at first glance looks like a tremendous value.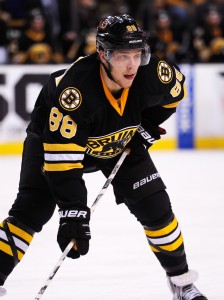 Breaking out this season with 34 goals and 70 points, Pastrnak showed why he was so highly coveted by the Bruins organization and proved he could be an elite offensive talent. At just 21, he's now completed three seasons in the NHL meaning this extension buys out only two UFA years. That length, which will make him a unrestricted free agent at 27, is why the cap hit is so much lower than someone like Leon Draisaitl, who was compared to Pastrnak all offseason. Draisaitl gave up three UFA years, but received an $8.5MM AAV on his new contract.
More similar is the deal Filip Forsberg signed last summer after his own entry-level contract expired. Forsberg received $34MM over six years, but was a year older than Pastrnak is now and didn't have quite the high in terms of points. Forsberg backed up his deal with another 30-goal campaign, a path Bruins fans will hope Pastrnak follows.
One of the more interesting things is that Pastrnak's average salary comes in right between Patrice Bergeron and Brad Marchand, something that had been reported as important to the team. Though Marchand told them it was fine if the new contract surpassed his, they likely still didn't want it to far outpace the two superstar forwards. It would have, had the term been extended to eight years.
While the deal seems good for the Bruins, it's almost perfect for Pastrnak as well. He gets paid a hefty salary and entirely avoids the arbitration process, and will hit the market in 2023 as an in-his-prime scoring machine that could demand another huge contract. Obviously the Bruins will want to keep him around even longer, but he'll likely have the ability to demand an eight-year contract from any team that wants to buy out UFA years (as long as the CBA stays the same).
Some may point to the fact that Pastrnak has "only had one good year," but the Bruins certainly don't think that he was just a flash in the pan. Even in his first two seasons he still scored at more than a 40-point pace, and those were mostly played as a teenager. If he continues to develop, he could be pushing Marchand for the team scoring lead as soon as this season.
The deal also has ramifications elsewhere around the league. Young wingers like William Nylander, Mitch Marner and Patrik Laine will be looking to get paid in the next couple of seasons, and there is now another sub-$7MM extension for an elite scorer. While Draisaitl's deal likely gives them a top end to negotiate towards—though he has played plenty of center during his short career as well—Pastrnak, Forsberg and Johnny Gaudreau give them something more realistic to work up from. You can bet this deal will be brought up in negotiations for the next several years.
Darren Dreger of TSN was first to report the deal.
Photo courtesy of USA Today Sports Images