With the NHL season now just a month away, it's time to look at what each team has done this summer and what to watch for in the year to come.  Today, we focus on the Tampa Bay Lightning.
Last Season: 42-30-10 record (94 points), fifth in Atlantic Division (missed the playoffs)
Remaining Cap Space: $3.25MM per CapFriendly
Key Newcomers: D Dan Girardi (free agency, NY Rangers)m F Chris Kunitz (free agency, Pittsburgh), D Mikhail Sergachev (trade with Montreal)
Key Departures: F Jonathan Drouin (trade with Montreal), D Jason Garrison (expansion), F Joel Vermin (free agency, Lausanne, Swiss NLA), D Luke Witkowski (free agency, Detroit)
[Related: Lightning Depth Chart From Roster Resource]
Player To Watch: G Andrei Vasilevskiy – For the past few years, Vasilevskiy had been referred to as Tampa's goalie of the future.  With Ben Bishop now out of the picture, he's now their goalie of the present.  Can he step up and take over that number one role?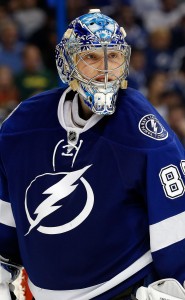 With Bishop missing a good chunk of time last season due to an injury as well as the eventual trade to the Kings, the Lightning got a good look at what the 23-year-old could do and the results were mixed.  Vasilevskiy struggled considerably in his first stint as the starter in December and January with Bishop injured but once the trade occurred, he fared much better down the stretch and the team is undoubtedly hoping that finish is a sign of things to come.
The pressure is certainly going to be on and Tampa's depth at that position isn't what it was.  Peter Budaj is coming off of a nice resurgent season but he's best suited as a backup while journeyman veteran Michael Leighton was brought in to replace Kristers Gudlevskis.  That's not a great safety net to have behind a relatively unproven starter.
Key Storyline: Tampa Bay's defense corps last season was led by Victor Hedman and Anton Stralman but the supporting cast had a lot of question marks.  Although the team moved out a couple of big salaries in Drouin (who signed for $5.5MM with Montreal after the trade) and Garrison, those were more to free up cap space over bringing in more proven players on the back end (with the exception of Girardi who is coming off a tough season himself).  Sergachev could push for a roster spot but even if he makes it, it's unlikely he'd play a key role right away.
Is that group going to be good enough, especially with one of the younger starting goaltenders in the league playing behind them?  There's no denying that the Bolts should have plenty of firepower, particularly with Steven Stamkos returning (and a healthy Ryan Callahan won't hurt either) but aside from Hedman and Stralman, their talent level beyond their top-two isn't great.  If they struggle early on, it wouldn't be surprising if GM Steve Yzerman looks to bring in another proven veteran at some point.
Photo courtesy of USA Today Sports Images.