With the NHL season now just a few weeks away, it's time to look at what each team has done this summer and what to watch for in the year to come.  Today, we focus on the New Jersey Devils.
Last Season: 28-40-14 record (70 points), eighth in Metropolitan Division (missed playoffs)
Remaining Cap Space: $10.37MM per CapFriendly
Key Newcomers: F Marcus Johansson (trade, Washington), F Brian Boyle (free agency, Toront0), F Drew Stafford (free agency, Boston), D Mirco Mueller (trade, San Jose), D Will Butcher (free agency, Colorado)
Key Departures: F Beau Bennett (free agency, St. Louis), F Mike Cammalleri (buyout), F P.A. Parenteau (PTO, Detroit), F Jacob Josefson (free agency, Buffalo), F Devante Smith-Pelly (buyout)
[Related: New Jersey Depth Chart From Roster Resource]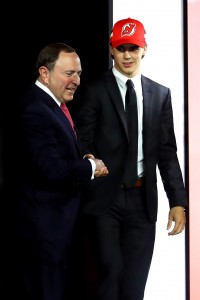 Player To Watch: F Nico Hischier – There is no one else more exciting than the number one overall pick. The Devils won a lottery to move up in the draft, and it will pay off immediately as Hischier looks ready to impress right out of the gate. The 18-year old Swiss-born center scored in his first preseason game after stripping a Washington Capitals' player, something Devils fans will hope to see more of this year.
Though some still see Nolan Patrick as the player most likely to make an immediate impact out of this year's draft class, Hischier is ready for the big time. His ability to be forgotten in the neutral zone and cause turnovers is uncanny, and he has all the offensive finish to rack up points in his first season. It's unclear who he'll play with at this point, but with some of the talented wingers that New Jersey has it could be an impressive group.
Hischier is only 18 though, and despite his high draft stock isn't as much of a lock as some former top picks. He's still small enough to worry about him breaking down in a season—though much like Mitch Marner or Johnny Gaudreau he rarely gets hit—and is by no means a lock down defender yet. While there is clearly potential for him to grow into one, he'll have to be sheltered somewhat this season.
Key Storyline: Even though the Devils haven't been competitive since going to the Stanley Cup Finals in 2011-12, doesn't mean they're exactly in a rebuild. The core of their team remains in the middle to latter part of their careers, and they need success quickly or else risk wasting the entire prime of Cory Schneider. Now 31, Schneider has yet to experience the postseason with the Devils despite putting up incredible numbers in his first three years.
Last year was a different story, as Schneider struggled mightily at times and ended the season with a .908 save percentage, easily the worst of his career. There were times that Keith Kinkaid looked like he might wrestle away at least part of the starting gig, but the Devils will need their starter to return to form this year.
There is a lot to like going forward for the Devils, with Hischier, Pavel Zacha, Micheal McLeod, John Quenneville and Damon Severson making up the next core of the team, but there is will also be a need to win now or start selling off assets. Adam Henrique and Taylor Hall are two and three years away from free agency respectively, and right in their prime. If it doesn't work now, the team should start thinking about moving them to bring back as much value as possible, before potentially seeing them walk away on the open market.