Navigating the Salary Cap is probably one of the more important tasks for any general manager to have. Teams that can avert total cap chaos by walking the tightrope of inking players to deals that match their value (or compensate for future value without breaking the bank) remain successful. Those that don't see struggles and front office changes.
PHR will look at every NHL team and give a thorough look at their cap situation heading into the 2017-18 season. This will focus more on those players who are integral parts of the roster versus those who may find themselves shuttling between the AHL and NHL. All cap figures are courtesy of CapFriendly.
Current Cap Hit: $70,187,500 (under the $75MM Upper Limit)
Entry-Level Contracts
D Thomas Chabot (Three years remaining, $863K)
F Colin White (Two years remaining, $925K)
White signed with the Sens late last season and burned the first year of his ELC in the process although he got into just three games between the regular season and playoffs.  As the lone waiver exempt forward on the roster though, he could be a candidate to move back and forth between the NHL and AHL.
Chabot was one of the top junior defencemen in all of the CHL in 2016-17 and many expect him to make the jump to full-time NHL duty, bypassing the AHL altogether.  A top-four spot right away would be a tough ask but he should play his way into more minutes as the season progresses.
One Year Remaining, Non-Entry-Level
G Craig Anderson ($4.2MM, UFA)
D Mark Borowiecki ($1.1MM, UFA)
D Cody Ceci ($2.8MM, RFA)
D Fredrik Claesson ($650K, RFA)
G Andrew Hammond ($1.35MM, UFA)
D Johnny Oduya ($1MM, UFA)
F Mark Stone ($3.5MM, RFA)
F Kyle Turris ($3.5MM, UFA)
D Chris Wideman ($800K, UFA)
Potential Bonuses
Chabot: $360K
Oduya: $1.25MM
White: $360K
Total: $1.97MM
Ottawa may only have two forwards with expiring deals but both are significant.  Turris has established himself as a number one center and with that position constantly being in high demand, he is going to command a significant raise in order to forego testing free agency.  If he does make it to the open market, the soon-to-be 28-year-old could come close to doubling his current cap hit.  Stone has vaulted from a late-round afterthought in the draft into a legitimate top line winger.  His next contract will take him to UFA status one way or the other as he will only be a year away from UFA eligibility next summer.  Accordingly, GM Pierre Dorion will likely be looking to sign him long-term which will also require a considerable pay increase.
On the back end, Ceci is easily the most prominent of the group that will need to be addressed.  While his offensive game hasn't progressed quite as they had hoped, he has shown himself to be capable of playing big minutes so he will still be in line for a big raise.  If Chabot is ready for a big role quickly though, Ceci could be a candidate to be dealt if they need to free up some budget space to keep their forward group intact.  Oduya has a good chance to hit at least some of his bonuses (set in five $250K increments depending on ice time, games played, and making the playoffs) so his final cost should come in above his cap hit as well.  Borowiecki, Wideman, and Claesson will all battle for playing time at the back of the lineup and their next deals (or ones for replacements) shouldn't be considerably higher than they are now.
Between the pipes, Anderson is set to enter his walk year, one that he certainly hopes will be a lot more stable after what his wife went through last season.  The free agent market for goaltenders next summer doesn't have a lot of prominent talent so a strong season from Anderson could help him stand out.  However, he'll also be 37 next summer which could cool his market, something that would be to the benefit of the Sens.  Hammond had a year to forget as he lost the backup job and then needed surgery to replace a torn labrum in February, ending his season early.  He's expected to make it through waivers but will still carry a cap charge of $325K at the minor league level.
Two Years Remaining
F Alexandre Burrows ($2.5MM, UFA)
F Derick Brassard ($5MM, UFA)
F Ryan Dzingel ($1.8MM, UFA)
D Erik Karlsson ($6.5MM, UFA)
F Tom Pyatt ($1.1MM, UFA)
F Nate Thompson ($1.65MM, UFA)
Brassard is the most notable name among the forwards in this group.  He had a quiet first year with Ottawa, seeing his point total drop from 58 to 39 but he should be able to rebound in 2017-18.  His future with the team could be at least in part tied to what happens to Turris; if the latter leaves, Brassard would become the number one by default (and gain a lot of negotiating leverage in the process).  If Turris stays, it's understandable to wonder if they'll be able to afford to keep both pivots around.  Dorion has decided to spend more on his bottom-six forward group which is reflected in the deals for players like Burrows and Thompson, who weren't with the team to start last season.  While all four other forwards should play regular roles, the second year in some of the contracts may hurt their short-term flexibility to re-sign the likes of Anderson, Stone, and Turris.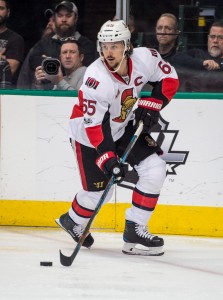 Karlsson's case will be a fascinating one to follow.  He is Ottawa's undisputed top player and is among the top few defensemen league-wide.  While he isn't a defensive stalwart (though he has made strides there), he's a high-end point producer, not only for his position but even when compared to forwards.  He'll also be 29 when he becomes UFA-eligible, still in his prime.  Accordingly, he is a strong candidate to set a new benchmark for the highest cap hit among NHL rearguards, currently held by Nashville's P.K. Subban at $9MM.  Will Ottawa, considered to be a smaller-market team, be the one to give him that contract?
Three Years Remaining
G Mike Condon ($2.1M, UFA)
F Mike Hoffman ($5.188MM, UFA)
F Clarke MacArthur ($4.65MM, UFA)
F Jean-Gabriel Pageau ($3.1MM, UFA)
It was only a few years ago that Hoffman was a decent AHL player but he has now become a quality top liner, averaging 60 points over the past two seasons.  He's a safe bet to be sticking around in that role for a while.  MacArthur's health situation has been something to watch for as concussion troubles kept him out for most of the year with some doctors recommending he retires.  He plans to continue to play but one more concussion would put his career in jeopardy and make him a multi-year LTIR candidate.  Pageau should slot in on the third line to start next season but if Brassard or Turris move on in the next couple of years, he could move into the top six.
Condon had himself quite the year in 2016-17.  After losing the number two role in Montreal to Al Montoya, he was picked up by Pittsburgh off waivers to serve as short-term depth with Matt Murray on the shelf.  Once Murray was healthy, Condon was flipped to Ottawa to play a similar role with Anderson taking a leave of absence.  He wound up being a critical part of their season though, tying for the team lead in appearances with 40 while keeping them afloat in the playoff hunt until Anderson returned.  He now has one of the pricier contracts for a backup and if Anderson leaves after the season, Condon could be battling for a starting job before long.
Four Or More Years Remaining
D Dion Phaneuf ($7MM through 2020-21)
F Bobby Ryan ($7.25MM through 2021-22)
F Zack Smith ($3.25MM through 2020-21)
It's safe to say that the seven year, $50.75MM contract that was given to Ryan after he had played just a single season in Ottawa hasn't worked out exactly as intended as he has not been a top line winger.  He's coming off the worst season of his career, one where he managed just 25 points in 62 games.  His contract is all but immovable at this point (unless they're taking an equally bad deal the other way) so he will get plenty of chances to try to turn it around.  Smith has gone from a fourth line energy player to a reliable secondary scorer and should slot in as a middle six forward for the foreseeable future.
The Sens were able to add Phaneuf fairly cheap from Toronto back in February of 2016 by taking on the entirety of his contract.  While the 32-year-old isn't playing like the number one blueliner he's being paid to be, he's still a serviceable top-four that can log major minutes.  However, like Ryan, his contract would be hard to deal at this point which is something they briefly explored prior to the Expansion Draft.
Buyouts
None
Still To Sign
None
Best Value: Turris
Worst Value: Ryan
Looking Ahead
Ottawa has typically been a team that doesn't come close to spending to the upper limit.  They currently are closer to it than they usually are as things currently stand and if they plan to keep the team intact beyond 2017-18, they're going to have to quickly become a cap-spending squad (or find a way to move out some money).  That doesn't even get them to Karlsson's walk year which is going to require the biggest commitment in franchise history to keep him around.  If owner Eugene Melnyk is willing to greenlight spending to the cap, Dorion should be able to lock up the rest of their core long-term but if not, some cuts to the roster are going to have to come sooner than later.
Photo courtesy of USA Today Sports Images.