In the latest piece from Aaron Portzline of The Athletic—a perfect example of why their subscription is worth it—Rick Nash's tenure with the Columbus Blue Jackets is examined, and how it makes sense for the two sides to come together at the end of his career for a sort of homecoming. While Portzline doesn't expect that to happen for another few years, he does report that there have been "no substantive discussions" to keep Nash in New York after his current contract expires next summer. The entire piece is worth a read (especially for one little snippet at the end).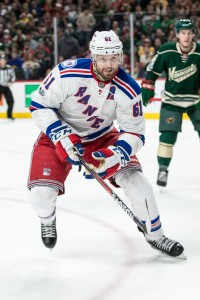 It's been expected for a while that Nash wouldn't return to New York, but a lot of that comes from the relative disappointments his last two seasons have been. Though he has still scored 74 points in 127 games—a 0.58 points per game average, which puts him above players like Patrick Marleau, Jaromir Jagr and Daniel Sedin last year—it's a considerable step backwards from the lofty heights we're used to. Nash scored 42 goals in 2014-15 (the third time he'd broken the 40 mark in his career) leading the league in even strength markers. At his best, he's been one of the very best goal scorers of his generation, with 416 in 989 games.
While he's unlikely to eclipse 40 ever again, even at 33 he represents a solid secondary scoring option that can be relied upon for 20 or more. He's never been the most physical player, but his size does still wear on defenders trying to contain him and he's even earned Selke votes a time or two as one of the league's best defensive forwards. As Portzline suggests, Nash will certainly get a multi-year contract on the open market next summer.
The Rangers are trying to get younger, and want to give more responsibility to players like Pavel Buchnevich and Jimmy Vesey, but they will have to think long and hard about letting Nash walk. If they've already decided that they won't try to bring him back, he'll likely be a leading trade candidate at the deadline when there will only be a few million left to pay. He has a 12 team no-trade list, and his contract is actually back-loaded ($8.2MM this season), but with salary retention he could still bring back an asset from the right team.
Photo courtesy of USA Today Sports Images